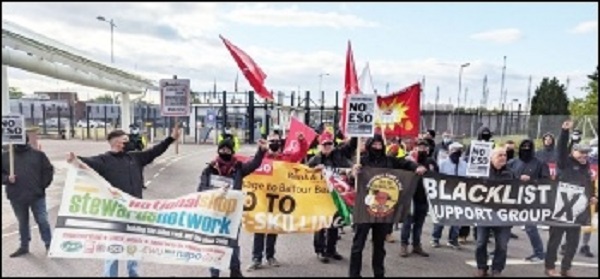 The National Shop Stewards Network (NSSN) rallies and lobbies of the TUC Congress have been an annual fixture since the first in 2010. They have become the most important pre-Congress event, reflecting the demands of the rank and file of the trade union movement, putting pressure on the trade union leaders.
This year was no exception. Three hundred trade unionists logged in to show their anger, both at the Tory government and the bosses for attempting to make workers' pay for the crisis as we leave lockdown, and at the quiescence of large sections of the trade union leaders during the pandemic, despite many attacks on workers. However, there have been and will be disputes, particularly over issues like 'fire and rehire', and the miniscule pay offers to public sector and other key workers. The task of the NSSN has been to build support for and link up these struggles, and impress upon the trade union leaders that the anger of the membership could be translated into a powerful force.
Each year, for both its conference and TUC rally, the NSSN invites speakers from its affiliated unions. This year the speakers included four trade union general secretaries, other elected trade union leaders, and rank and file activists. Kevin Parslow, assistant secretary NSSN (personal capacity), reports.
---
Rob Williams, Chair NSSN
Rob Williams, chairperson of the NSSN, gave his introductory remarks. The Tories have imposed a "sneaky" tax rise to make workers fund the NHS and social care. The Tories have a whole raft of anti-working class, anti-union measures in their locker, and they will use them unless we fight back.
The contempt of the Tories was shown by prime minister Boris Johnson's remarks about Margaret Thatcher showing environmental foresight by closing pits, which devastated many coal-mining communities! But we have to learn the lessons of the miners' strike on how to take on the Tories: there must be no national unity with the Tories and big business, either during the Covid lockdown or after.
Fighting to defend jobs, terms and conditions can pay off; look at the 'fire and rehire' disputes, or the victories this year of bin workers or construction electricians against deskilling.
What is needed, is for the trade union movement to unite and work out a fighting programme to defeat the Tories.
---
Sharon Graham, Unite general secretary
In electing Sharon Graham as general secretary, Unite members voted for a 'programme for change' to coordinate a pushback. Although Sharon came under pressure from some to withdraw from the campaign, she stood because it was important for a fightback to be on the ballot paper. She said the 'hard miles' now begin, not just in Unite, but across the movement. Workers have paid for the crisis after years of austerity and closures. She spoke in favour of working with other unions and the community to fight back.
Sharon explained that in her first hour in office, she brought together 80 representatives of Unite members in 22 disputes to discuss how to co-ordinate their action. She pledged never to make apologies for defending workers faced, for example, by 'fire and rehire'; employers' crocodile tears don't work for her. Her focus as general secretary will be on jobs, pay and conditions for workers. Unions have to be proactive by coordinating disputes and resources and driving through change.
Under Sharon's leadership, Unite will be campaigning against multinationals and developing an industrial structure to deal with them. She proposed one international campaign to push Amazon back, particularly in its major markets of the US, Germany and the UK. The Amazon model of exploitation is being replicated in the public sector; the NHS is looking for Amazon managers!
Sharon was criticised during her election campaign for having a limited political strategy. However, she said she is not going to abdicate the political field, but thinks the 'parlour games in Westminster' haven't done anything for workers. She is interested in what a workers' manifesto would look like, and said that any conversations she has with Kier Starmer will be over the workers' agenda for change and what Labour is doing to implement that.
She concluded on a theme throughout her contribution, that collective action is important and there are no shortcuts to this. The movement, she said, loses focus if it relies on individuals; building for the bottom up will resist the offensive. In this process, Sharon said she is looking forward to working with the NSSN.
---
Sarah Woolley, BFAWU general secretary
Sarah Woolley of the Bakers, Food and Allied Workers' Union (BFAWU), representing many low-paid 'key workers', called for a fight for a £15 an hour minimum wage. It was ironic, she said, that low pay causes food insecurity for many workers in food production.
Sarah thanked the NSSN for extending solidarity to the Baker's union president Ian Hodson who is faced with expulsion from Starmer's Labour Party. The union has arranged a recall conference to discuss Labour Party disaffiliation in response.
---
Joe Simpson, POA
In a hard-hitting contribution, Joe Simpson, assistant general secretary of the Prison Officers' Association (POA), welcomed Dave Ward's comments but questioned its ambition. POA members have worn out a lot of "shoe leather in London and nothing has changed".
Joe explained how the POA has been stripped of its legal trade union rights, and that the union has recently been fined £210,000 for defending members' safety.
He reminded the rally of the POA motion to Congress passed in 2012 to consider "the practicalities of a general strike" against austerity, and that it should be acted upon now.
He demanded a 15% pay rise across the board with a starting minimum of £15 an hour; unions should act together and strike together.
---
Dave Ward, CWU general secretary
Dave Ward thanked the NSSN for its work over many years. He recognised that this was a most important moment for the trade union movement, and spent a large part of his speech outlining the CWU motion to Congress (subsequently carried, and which should be urgently acted upon).
He talked about 'upping the ante', as the Tories have no intention of levelling up working-class areas because they have no intention of levelling out power and wealth; such is the divisive role of capitalism.
Dave criticised the current leadership of the Labour Party for not having "the wherewithal to stand up for working people"; the working class cannot wait for political change at the next general election. For the CWU, the fundamental question is: Are we ready to fight together for industrial change?
The CWU's motion was a plan to bring together disputes in "a new deal for workers". He encouraged all unions to link their fights to an overall set of demands, to organise local and regional 'town hall' meetings this autumn, particularly in the so-called 'red wall' seats won by the Tories in the 2019 general election, with the campaign culminating in a national rally in spring 2022.
---
Carmel Gates, NIPSA general secretary designate
Carmel Gates, of the Northern Ireland Public Service Alliance (NIPSA), proudly announced herself as a revolutionary socialist, a member of Militant Left in Ireland, the affiliate of the Committee for a Workers' International, of which the Socialist Party in England and Wales is also part.
She outlined the challenges facing workers in Northern Ireland and how NIPSA is leading the fightback. She also referred to successes organising in other sectors, meat processing plants for example, and agreed with the necessity of organising in the workplaces. Carmel explained that all the sectarian parties in Northern Ireland are attacking working-class living standards. She raised how coordinated strike action was important, mentioning the example of workers at Hovis and crèche workers at Queens University, Belfast, as an example of unions working together.
---
Joe Kirby, RMT
Joe Kirby, offshore worker and member of the RMT National Executive Committee, had spoken at a recent NSSN-convened meeting on Freeports. Joe reminded those listening that they were 'free' only to attack working-class living standards.
---
Contributions 'from the floor'
The meeting included a number of fighting contributions from rank-and-file activists that took the rally well past its closing time of 2pm!
Billie Cooper, a member of Unite LE1111 Housing Workers Branch, has helped to establish Care and Support Workers Organise (CasWO!), which is fighting for a radical transformation of the sector, where key workers are largely overworked and underpaid. They support the demands of many of their clients, of disabled people for example, fighting for their rights.
This was amplified by Paula Peters, one of several speakers from Unite Community branches, and also a member of Disabled People Against Cuts (DPAC). They have organised a series of actions against cuts in the next three weeks, culminating in action at the Tory party conference on 4 October (full details at dpac.uk.net).
National Education Union (NEU) activist Martin Powell-Davies, a candidate for NEU deputy general secretary, outlined the attacks facing teachers and school staff, and how they had fought back during the pandemic by using Section 44 of the Employment Rights Act (1996). This forced the government to close schools at the height of the pandemic. However, the NEU and other unions have not built on this. Martin supported setting the date for a demo in the spring.
Padraig Mulholland from NIPSA called for a struggle against the anti-trade union laws, because trade unionists should build on collective action, not just rely on legal health and safety provisions.
Hugo Pierre and Naomi Byron, both Unison NEC members speaking in personal capacities, spoke on the battle for a genuine pay rise in both local government and the NHS. There needs to be coordinated action between unions on pay. Hugo added that the Unison NEC should respond to the cuts by preparing a national strategy to fight, and not just support local branches in dispute. He called for meetings with other unions at NEC level and emphasised that having a political strategy was important for the unions.
This was supported by Len Hockey, secretary of Unite Barts hospital Trust branch, who welcomed Sharon Graham's election, but broadened this out to emphasise the need to fight on the political front in councils, etc. He drew attention to the headlines in the papers that day, calling the rise in taxes to pay for the NHS as 'Poll Tax 2.0', showing the fear of some sections of the capitalist class at levying a tax that affects all workers equally unfairly.
Dave Walsh, Unite convenor in Liverpool City Council, said that the low morale among council workers could be transformed into anger and action if union leaders mobilised against the pay 'rise' offer from government.
Ferdy Lyons, a Unite member in its London hospitality branch, spoke on behalf of Youth Fight for Jobs. He exposed the incredible exploitation of young workers in this and other sectors of the economy through poverty wages and bogus training, which will worsen with the end of the furlough scheme. Youth Fight for Jobs is touring trade union meetings with speakers, in building for a number of local demos on 9 October (see back page).
PCS activist Marion Lloyd bemoaned the absence of a campaigning PCS leadership in what used to be a fighting union. It had revoked any idea of industrial action during the pandemic and failed to give a lead to its members who were facing attacks on pay, conditions and working practices from civil service managers.
Jared Wood, RMT NEC member, summed up the discussion by articulating what many felt: that it is a disgrace that this TUC Congress was not convened as a council of war. He concretised Dave Ward's point for a collective fight, by agreeing with Joe Simpson that unions have to prepare to strike together against this vicious Tory government and its system.
Rob Williams closed the rally by saying that it had been a proper exchange of ideas between union members. He echoed that congress should do what it did in 10 years ago in the 2011 pensions' dispute: prepare the way for common industrial action to defeat the Tories and fight for a working-class alternative to low pay, the cuts and relentless attacks on our rights and conditions.
This was a rally that really reflected working-class anger at the capitalist system, and showed a way to fight back.