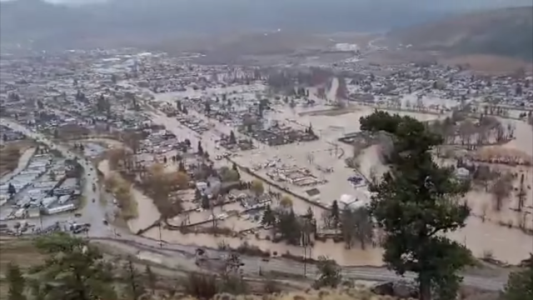 After a year like no other, which has seen record-breaking heatwaves and wildfires that ravaged towns and led to thousands of hectares of land being destroyed, British Columbia (BC), Canada, has faced yet another historical disaster in the form of unprecedented floods. Undoubtedly linked to global climate change, the resulting loss of life, homes, and livelihoods, has impacted all who live in BC which is now under its third state of emergency this year.
On Friday 11 November, meteorologists warned of extreme rainfall coming to Southern BC. A month's worth of rain fell in just 48 hours and the devastating impact that ensued is hard to fathom. News agencies struggled to keep up with the fast pace of events that were unfolding, and by the evening of 12 November, all roads and railroads going into and out of the lower mainland were cut off from the rest of Canada.
Mudslides and washed-out roads trapped thousands of motorists and severed the supply arteries into and out of the lower mainland, which includes the city of Vancouver. Aerial footage showed railroads, which are vital to transport goods to and from the lower mainland, severed apart with train carriages hanging off the edge of cliffs created by mudslides that tumbled down mountainsides.
The town of Merritt, with a population of 7,000, was evacuated, which was closely followed by thousands of residents being evacuated from Abbotsford, which lies approximately 70kms southeast of Vancouver. Many more communities have been left isolated and only reachable by air. The southern part of Vancouver Island was temporarily cut off from the rest of the Island due to the Malahat stretch of highway being washed out. The resulting loss of life and damage including that of thousands of animals in agricultural centres, such as Abbotsford, is on an epic scale.
A state of emergency was declared a few days later which sets limits on how much gas and food people can buy. But panic hit fast with the knowledge supply chains were at best delayed, and many gas stations and groceries stores were empty before the state of emergency was enforced. Supply routes are being used through the US border and limited access is now open on a few routes to only essential vehicles. A full evaluation of the extent of damage to infrastructure is in the early stages as the flood water continues to recede.
The cost of repairing the damage will run into billions (Canadian $). This price tag will be expected to be paid by the working class of BC and Canada, who will suffer the most in the aftermath of this disaster.
Merritt now joins Lytton, the town that was destroyed by wildfires in the summer, as another town in the province destructed by the consequence of global climate change. Global climate change, which, under capitalism, is fuelled by the drive for profit over people, is another problem of this system that the working-class and youth of BC are faced with.
British Columbia's many problems
BC has lost 7,000 people to the opioid overdose epidemic since 2016. Housing in BC is unaffordable for the majority. Many workers and youth are at the mercy of an overinflated rental market and low pay, which forces many to continue to live in poverty. The ongoing injustice and discrimination faced by First Nation and Indigenous communities, such as a lack of access to clean water, destruction of land, and access to safe housing, and services such as health care and education continue to disproportionally impact their communities. This is a fight for all workers and youth – and can see working-class people gaining knowledge of the plight of the First Nation and Indigenous communities, and both building class solidarity.
These issues, combined with living with the fallout from the covid-19 pandemic and a crippled health care system, have taken their toll on the mental health and wellbeing of many.
However, despite the devastation of the past few weeks, community solidarity and human ingenuity have helped to pull people together. Reports of people handing out food and blankets to stranded motorists, providing homes to strangers to stay out of the cold, in addition to footage of hundreds of people forming a human chain to lay sandbags at a dam to prevent further flooding, to people with boats and dinghies pulling cattle and livestock out of rising floodwaters, has shown the true power workers have when organising together. The line workers, construction workers, city workers and more have been working tirelessly to regain power, dig and rebuild roads, and lift those left stranded to safety.
These acts of solidarity can form the basis for a revaluation as to how we can fight together, organise, and rebuild our communities. Global climate change is here, and what has taken place in BC in 2021 is a warning as to the type of events that will likely continue to unfold internationally. The need for a socialist society, based on democratic planning for the needs of the majority, has never been more urgent. Capitalism as a system has proved it is unworkable – the task ahead is to change it.
We demand:
People before profit: For the creation of democratic community organisations to decide and plan rebuilding efforts. For community-led emergency planning and mitigation.
Inclusion of scientific evidence to ensure knowledge regarding both local and international environmental factors and needs, geography, technology, and future planning is utilised for the benefit of all, not big business interests.
For the right to self-determination of First Nation and Indigenous communities: For an end to discrimination, racism, poverty, unsafe water supply, and for equitable access to quality housing and services.
For the planning and provision of shelter, food, and services during environmental crises.
No to big business profiteering out of environmental disasters; working-class people and youth should not pay the price of climate change. For a cap on the cost of fuel, food, and services.
End poverty: For the immediate building of affordable housing and an end to low pay. Access to free education and training for workers and youth.
For the building of a mass party of the working class, youth, and oppressed minorities, with a socialist programme.
For a democratically planned, environmentally friendly economy, as part of a socialist society, based on need and not profit.