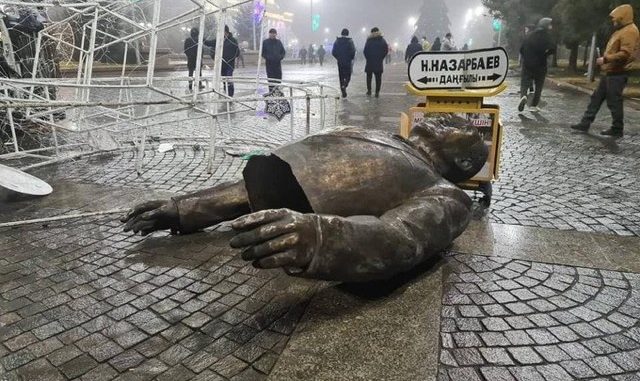 Kazakhstan has been disconnected from the internet. Activists across the country are generally unable to communicate. All cities and towns are being cut off from information. Occasionally connections are re-established.
Demonstrations are taking place across the country. In some cities demonstrations are gaining momentum and in some places even the riot police (OMON) are taking the side of the protesters. Elsewhere, on the contrary, widespread arrests have ensured relative silence. The latest news is that there have been clashes with police in Pavlodar.
Residents of Almaty woke up this morning to explosions of flash-bang grenades. They were being blasted for most of the day.
In Taldykorgan, a monument to Nazarbayev was demolished as the anthem of Kazakhstan (partly written by the first president himself) was played.
A group of demonstrators opened fire on National Guard forces outside Almaty's administration building. There were some wounded among the security forces.
Tokayev has deposed Nazarbayev (as ridiculous as it sounds) and declared that he will fight for power to the last.
In many cities, including Aktobe and Almaty, the offices of the Akimat (mayor) were stormed.
Workers at the giant enterprises of Kazakhmys and ArcelorMittal refused to go to work.
In the past 24 hours, 90 private vehicles have been torched and 120 shops, 100 offices, 80 cafes and restaurants have been looted, according to Almaty's administration. Sixteen police cars, seven ambulances, two fire engines, five rubbish trucks and one fuel tanker were set on fire. Three trolleybuses and two buses were destroyed. It is quite possible that these figures are exaggerated and are smaller. But cars are definitely getting burned in Almaty; there is numerous video reports to prove it.
Other evidence confirms that the most terrible outrage is taking place in Almaty. Auezov police department building is being stormed. Protesters looted one of the largest arms shops. Oppositionists are holding lots of weapons and ammunition. In Almaty, police officers are firing from the roof of the ROVD building, as protesters are storming it. Live ammunition is already being openly used by both sides of the conflict.