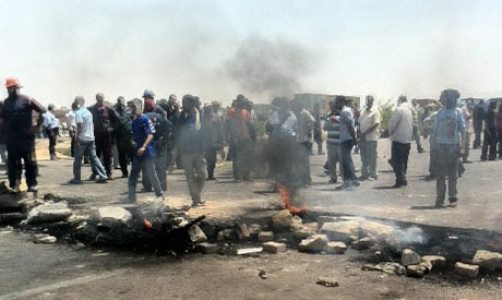 Beshay steelworkers in Sadat City came out on strike on 29th August, after staging a three-day sit-in. Inflation has sharply cut their living standards. They are also paid less than other steelworkers.
They are demanding a 30% increase in 2020 wages, a 15% cost-of-living allowance for 2021, increased hazard pay, and housing, travel, and meal allowances. They are also demanding management stop evading the legal requirement to offer workers permanent contracts and annual wage increases after four years of employment.
The company's trade union committee has not supported the strike and workers accuse the union of siding with management. As is usually the case, the official union leadership – part of the Egyptian Trade Union Federation (ETUF) – acts as an arm of the state, rather than genuine workers' representatives. Nevertheless, trade union membership in steel, other heavy industries, and the public sector is usually high as some benefits are dependent on union membership.
Steel workers' history of struggle
Around 17,000 Helwan Iron and Steel workers took unofficial strike action in 1989, including a sit-down protest of 5000 that blocked the factory gates. Police stormed the protest, killing one and arresting 600.
Hosni Mubarak's regime carried out state repression against all but the tamest opposition. Strikers faced sacking, arrest, and torture. He also oversaw a programme of privatisation, in steel and other industries. This resulted in worse terms and conditions for workers, with growing job insecurity.
Despite this, the last five years of his rule were marked by the biggest strike wave in Egyptian history, with three million workers involved. New independent trade unions began to develop, especially the real estate (property) tax collectors. Following a long and ultimately successful strike, a new union with 55,000 members was built, independent of state control through the ETUF.
This strike wave prepared the way for the mass demonstrations in January and February 2011 that brought an end to Mubarak's dictatorial rule. Independent trade unions rapidly grew during the following months with up to two million members.
In May 2011, 9,000 workers at Beshay Steel went on strike to demand payment of the 15% bonus recently announced by the minister of finance. Most returned to work the next day with their demands met. But management argued the bonus did not apply to 1,500 workers employed on fixed-term contracts, who were not allowed to return to work.
Shortly before the election of Muslim Brotherhood President Mohammed Morsi in 2012, 2000 Beshay Steel workers blockaded the main Cairo-Alexandria road as part of a new strike for higher pay.
Morsi was overthrown after a mass uprising in 2013 but, in the absence of an independent mass workers' party, he was replaced by the military-backed regime of current president Abdel Fattah al-Sisi. Since then, trade union activists have lived under constant threat of terrorism charges, torture and jailing. There have been very few strikes, although 7000 Helwan Iron and Steel workers marched against the closure of the state-owned plant in 2021.
Independent workers' organisation needed
The new Beshay strike is significant as one of the biggest workers' movements since al-Sisi took power. In July, food inflation was 22% so all workers' living standards are under attack. Other workers could soon be following their example and fight back.
The need to build trade unions independent of state control will gain support again. The lessons of 2011-13 show workers need independent political organisation too. A workers' party, linking activists together from different workplaces along with students and other activists, could hammer out a programme of socialist change and democratic rights. Although very difficult conditions of illegality and repression remain, beginning this task now could ensure the next time workers, the youth, and the poor rise up against dictatorship, poverty, and inequality it will succeed in starting the transformation of Egypt, the Middle East, and North Africa into a region – a voluntary and equal socialist federation – that meets the needs of all.