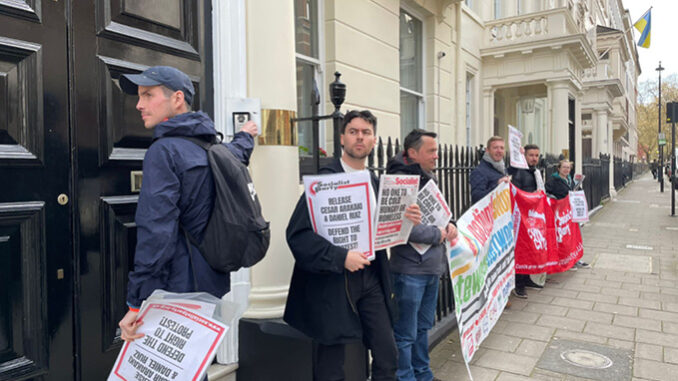 Activists from the Socialist Party, the CWI in England & Wales, protested outside the Argentinian embassy in central London on 13 April.
The protest was responding to an international appeal in defence of left activists César Arakaki (a member of Partido Obrero) and Daniel Ruiz (a member of PSTU). It coincided with a court hearing convened to rule on the validity of prison sentences handed down to the two comrades in 2017 for participating in a 300,000-strong demonstration in Buenos Aires against government attacks on retirement and pensions (see here for more background). The harsh sentences of three and six months and three years respectively for so-called "public intimidation" were in reality an exercise in intimidation by the Argentinian state and an attempt to criminalise protest.
Neither the ambassador nor any embassy officials were willing to speak to Socialist Party comrades or even receive their letter of protest in person. Clearly having absorbed the anti-democratic ideas of the government in Buenos Aires, comrades were told that the embassy "does not talk to people protesting" and instead called the British police who arrived with sirens blaring!
As the letter left at the embassy promised, if César and Daniel are not acquitted the Socialist Party and the CWI "will step up our campaign … throughout the trade union movement in Britain" and internationally.