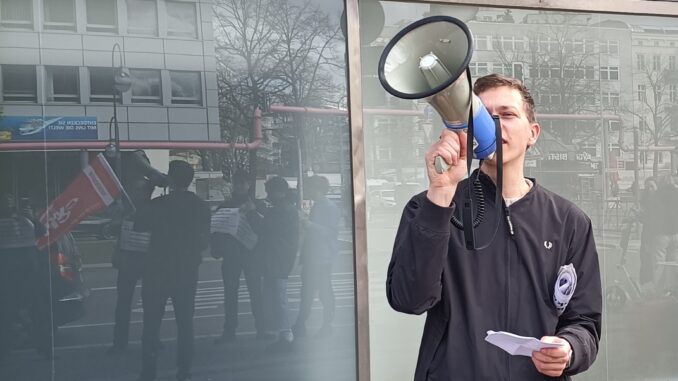 Activists from Sozialistische Organisation Solidarität (Sol – CWI in Germany), the Forum of Trade Union Lefts in Berlin, the International Commission of the IG Metall Berlin (metal workers' trade union) and RIO (Revolutionary Internationalist Organisation), organised a joint protest in front of the Argentinian embassy on the international day of action in defence of the two socialist activists, César Arakaki and Daniel Ruiz.
Sol invited the other groups to join the protest. Three speeches were given by representatives of the different groups. The need for international working class solidarity was highlighted alongside the demand César and Daniel's acquittal.
Chants of "Long live international solidarity" and "From Berlin to Buenos Aires – we will protest until César and Daniel are free", where heard at Berlin Wittenbergplatz. Many pedestrians saw the protest, as well as embassy staff watching out of their windows.
A protest letter was handed in to the embassy. The official who received the letter said that they are aware of the case and that protests were taking place in different cities internationally on that day.
The German section of the CWI will continue to put pressure of the Argentinian authorities until two comrades from Partido Obrero and the PSTU are acquitted.