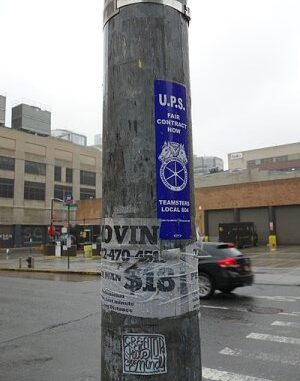 On June 16th, the International Brotherhood of Teamsters announced that 97% of UPS Teamsters voted to authorize a strike if we can't reach a strong tentative agreement by August 1st. If UPS workers strike this summer, it would be the largest strike in the United States this century.
UPS Teamsters handle goods that account for about 6% of the US Gross Domestic Product (GDP) and 3% of the world's GDP, moving 25% of all packages in the US. UPS announced record profits in 2022, hitting $11.3 billion in profits and $100 billion in revenue for the first time in the company's history.
Meanwhile, UPS workers have endured decades of concessionary contracts. They are struggling under the two-tier pay system, low wages for part-time workers, subcontracting, forced overtime, and unsafe working conditions. But workers are prepared to make real gains this time around.
We Should All Care About this Battle
Much is at stake with this UPS contract—the largest private-sector union contract in the country—and there are important consequences for the entire working class. A victory or defeat of the Teamsters will set the tone for the US labour movement in the coming years. A strong, successful strike would raise standards for pay and working conditions and bring renewed interest among workers to unionize and employ militant tactics. A weak strike or contract could invite increased attacks by corporations and the capitalist class on workers and unions and undermine the confidence of workers to take on employers.
This is why it's crucial for as many working people as possible to be brought into the UPS Teamster struggle, not just as supporters but as those who have a stake in the outcome. Looking back at the 2018 West Virginia teachers' strike that closed all 680 public schools across the state for nine days, we see how vital solidarity from the students, parents, and other staff was to the strike. It was difficult for corporate media to claim the striking teachers were putting kids at risk when those very kids and their families stood on the picket line with their teachers.
Like in West Virginia, if UPS Teamster workers nationwide go on strike, workers in other unions and community members can get together to help picket, protest, and rally by the hundreds of thousands, possibly millions, across the country. Such clear public support would make it much harder for the corporate media and the capitalists to discredit striking UPS workers or for the Biden administration and the Democratic Party to invoke Taft Hartley labor law to try to shut down a strike.
Help Launch Solidarity Committees
A labour movement and working class that firmly stands behind the Teamsters this summer will put UPS workers in a stronger place to win major gains. Solidarity committees can reach out to workers, community members, and customers to explain the issues at stake in contract negotiations and appeal to working people to support the strike in various ways. Reaching out to as many working-class people as possible is key to countering anti-union propaganda.
The Independent Socialist Group (ISG) calls for and is helping in our local areas to organize working-class people, union activists, and community members to form solidarity committees to promote and coordinate support for UPS Teamsters. ISG Teamster members are also working within their local to launch a Teamster solidarity committee. We encourage the union and its rank-and-file members to take the lead within organized labor to initiate solidarity committees that supporters can join. These committees could unite and mobilize other unions, pro-labor community members, and groups to take solidarity action.
Solidarity committees can help raise awareness through informational tabling, leafleting, social media, and public meetings—Teamsters in some areas are already tabling outside of sports events! We can show UPS workers and the company that the community stands with the Teamsters by organizing and attending public displays of support like standouts, practice pickets, rallies, and car and truck caravans. People in different unions can work with their union siblings to pass solidarity resolutions and get commitments for members to join picket lines. We can build a network of supporters through solidarity pledges and petitions and hold events to collect donations for the Teamsters' strike fund.
If a strike is called, the committees can strategically mobilize for solidarity actions and picket lines at UPS hubs, storefronts, and offices, as well as at freight rail and airport hubs handling UPS traffic. We can help organize workplace and community boycotts—if the Teamsters call for them—and encourage coworkers and neighbors to refuse scab jobs and not cross picket lines.
UPS will do all it can to squash a strike, and working people should be prepared for attempts by the company and the capitalist class to divide workers and direct popular opinion against the Teamsters.
Build Working Class Unity
In past struggles, unions have organized mass pickets and other solidarity actions with the help of family, friends, other union workers, people in local communities, and unemployed workers (read more on page 7). Unions need to see each organizing and contract battle in the context of the whole labor movement and the entire working-class struggle. This means mobilizing union members and supporters beyond a single workplace or industry, demanding and giving real solidarity, refusing to scab on each other, and organizing solidarity strikes.
This is why we're calling on labor unions, socialist and community organizations, and working-class people to pool their time, energy, and resources to build public support for the UPS Teamster contract battle.
Branches of the Independent Socialist Group are helping to form solidarity committees. We are holding launch events in Boston and Worcester, Mass., Portland, Maine, and Providence, Rhode Island.
We invite any people and groups who support the Teamsters, who support striking workers, and who want to strengthen the labor movement to join us at our solidarity committee launch events. We stand with UPS Teamsters for a strong no-concessions contract or a strike on August 1st!