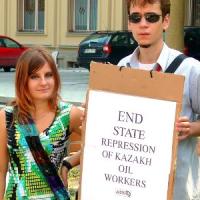 A solidarity picket in defense of oppressed oil workers in Kazakhstan was held near the Consulate of the Republic of Kazakhstan and the headquarters of the firm 'Oil and Gas Exploration', in Krakow on August 25.
During the action, members and supporters of Alternatywa Socjalistyczna (formerly Group for a Workers' Party) distributed leaflets informing about the plight of striking workers in Kazakhstan and collected signatures for a petition demanding an end to their persecution. The collected signatures will be sent to the coordinators of the Kazakh workers' solidarity campaign.
Our action aroused the interest of passers-by as well as 'Oil and Gas Exploration' workers, who came across this kind of street action or the first time ever.
At the end, members of the Alternatywa Socjalistyczna went to the Consul of Kazakhstan, to give him a letter of protest against the situation in the country he represents. The letter was accepted.