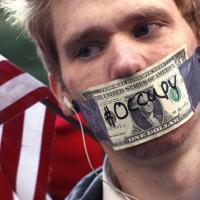 El movimiento 'ocupar' trajo la oposición al capitalismo de los márgenes a la corriente principal
A pesar de la demonización casi universal de las ideas socialistas en los medios empresariales corporativos y la clase política, de acuerdo con una nueva encuesta de Pew Research Center, los jóvenes de 18-29 ven al socialismo positivamente, mientras que sólo el 43 por ciento reaccionan negativamente a la palabra. En el mismo grupo de edad, sólo el 46 por ciento tienen una opinión positiva del capitalismo, mientras que el 47 por ciento ve al capitalismo negativamente. 
Si bien estas cifras se mantienen cerca, lo notable que tan sólo 20 meses después de la última vez que Pew hizo las mismas preguntas, los números se revirtieron. En ese momento, según los hallazgos de Pew, una ligera mayoría de gente joven, de 49 a 43 por ciento, veía negativamente el socialismo.
Sin duda, el impacto de la Ocupar Wall Street en la conciencia es un factor importante. En cuestión de semanas, el movimiento Ocupar trajo la oposición al capitalismo desde los márgenes hacia el centro. Con ello ha venido creciendo el interés y la demanda de una alternativa política real a este sistema.
Pew separa sus resultados por raza, ingresos, edad, y afiliación política. Cabe destacar que los afroamericanos tienen el punto de vista más favorable por el socialismo, de 55 a 36 por ciento. Mientras que en toda la población de los EE.UU. – en particular la de más de 30 – todavía tiene una visión negativa del socialismo (60 a 31 por ciento, una diferencia de 19 puntos), entre los de ingresos más bajos (menos de $ 30.000) los puntos de vista positivos y negativos son casi iguales a los 43 el 46 por ciento. Mientras tanto, la mitad de los estadounidenses más pobres ven el capitalismo negativamente, mientras que sólo el 39 por ciento apoya al capitalismo.
Estas cifras subrayan el enorme potencial para construir un movimiento socialista de masas en los EE.UU. de hoy. Después de décadas de propaganda de la Guerra Fría y la confusión creada por el legado del estalinismo, el resurgimiento de la amplia simpatía socialista desde el inicio de la crisis financiera es especialmente significativo. Mientras los políticos patrocinados por las corporaciones de ambos partidos mayoritarios siguen siendo ardientes defensores del capitalismo, sus componentes – en particular la nueva generación – son cada vez más hostiles al sistema. 
Mientras nuevas luchas de trabajadores y jóvenes estallen en los próximos meses y años, el apoyo a las ideas socialistas, sin duda, crecerá aún más. Los esfuerzos de los medios corporativos y los partidos políticos capitalistas para marginar y excluir a las voces socialistas ya no son sostenibles.
Sin embargo, la mayoría de los jóvenes y trabajadores en busca de una salida del capitalismo hay confusión, las opiniones positivas del socialismo aún no indican una clara comprensión de las genuinas ideas marxistas. Los puntos de vista, sin duda, van desde el apoyo a los sistemas europeos de bienestar social del estado y otros modelos de "economía mixta" a simplemente el deseo general por la igualdad de la riqueza y un espíritu de solidaridad social. Hasta el momento, sólo una pequeña minoría apunta claramente a construir una economía democráticamente planificada socialista.
Así que para aquellos que quieren ver el cambio de sistema, sin embargo, el reto histórico es transformar el apoyo pasivo, en general de las ideas del socialismo a la participación activa en el movimiento socialista y la claridad sobre cómo la sociedad puede ser transformada.
Si usted está entre los partidarios no- organizados del socialismo, ahora es el momento de dar un paso adelante y unirse a la lucha .
Special financial appeal to all readers of socialistworld.net

Support building alternative socialist media

---

Socialistworld.net provides a unique analysis and perspective of world events. Socialistworld.net also plays a crucial role in building the struggle for socialism across all continents. Capitalism has failed! Assist us to build the fight-back and prepare for the stormy period of class struggles ahead. Please make a donation to help us reach more readers and to widen our socialist campaigning work across the world.

Donate via Paypal

CWI- Please inform us if you are reproducing any material from this site.