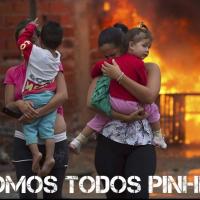 3 year old child killed in fatal repression
Over the last week, horrific scenes of repression have developed around Brazils's largest land occupation, in Pinheirinho, Sao Paolo. On Sunday, over 2,000 military police attacked the occupation, which houses 9,000 inhabitants since it was occupied in 2004 through mass action. In the terrible scenes which followed, 2 people, among them a child of 3 years old, were killed. At the recent International Executive Committee meeting of the CWI in Belgium, where comrades from over 33 countries were represented, from Europe, Asia, Latin America and Africa, the statement posted below was unanimously agreed. Liberdade Socialismo e Revolucao, the CWI's Brazilian section, continues to carry out tireless work in defence of and solidarity with the courageous struggle of the besieged community.
socialistworld.net
No to the occupation's removal! No to repression!
In defence of Pinheirinho inhabitants!
For the right to housing for workers and the poor in Brazil!
The threat to remove the land occupation from Pinheirinho en Sao José dos Campos (São Paulo) is a grave attack against working men and women who struggle for decent conditions of life and housing.
The socialists and working class fighters currently meeting as participants in the International Executive Committee of the CWI, take unreservedly the side of the residents of Pinheirinho, in their just and legitimate stand.
We do not accept that workers and their families can be dumped on the street, in the interests of a handful of speculators and social parasites.
Pinheirinho residents in defence of their community
The Pinheirinho occupation has been inhabited by 1,700 families for years, and represents a legitimate and just struggle for housing rights, in an area where property speculators owe millions of dollars to the state, and are only seeking control of the land to engage in speculation. The worst aspect is that this attack comes at a time when the residents of Pinheirinho were on the verge of regularising their situation and inhabitancy of the land.
We cannot accept the forced removal of thousands of workers by the state, an action which could result in a bloodbath, given the legitimate decision of the workers to resist and fight for their rights. We call on the entire workers' movement, the social movements and the genuine left to immediately and firmly express their solidarity with this struggle, and to demand from the authorities, and the legislators that the gains and rights won though the struggle of the people of Pinheirinho are recognised. We pledge to defend unreservedly, on all of the world's continents, the heroic struggle of our comrades in Pinheirinho.
CWI IEC, Nieuwpoort, Belgium, 20 January 2012