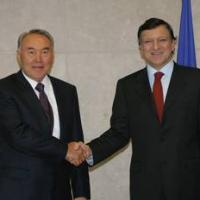 Encuestas completas fueron promovidas por el diputado europeo Paul Murphy, y el Parlamento Europeo estuvo de acuerdo
Ayer en una reunión plenaria del Parlamento Europeo en Estrasburgo, durante una moción sobre los derechos humanos, Paul Murphy, diputado al Parlamento Europeo se refirió a Sri Lanka y Kazajstán. Una enmienda del partido conservador y popular europeo destinada a aceptar el informe del gobierno de Rajapakse sobre el fin de la Guerra Civil fue derrotada y la resolución que pide una Comisión de Investigación de las Naciones Unidas fue aprobada. Asimismo, el Parlamento condenó la dictadura de Nazarbayev (que aparece en la foto con el Presidente de la Comisión Europea, Barroso, en la foto) en Kazajstán, y acordó pedir una investigación independiente sobre las muertes en Zhanaozenon.
Ambas decisiones añaden peso tremendo para las campañas apoyadas por el Comité por una Internacional de Trabajadores por los derechos democráticos básicos en estos países.
Un comunicado de prensa acerca de la votación sobre la cuestión de Sri Lanka se puede leer en la página web de Solidaridad Tamil aquí.
El texto de la enmienda en Kazajstán se puede leer en la página web de 'Campaign Kazakhstan' aquí.
Un video del discurso de Paul se puede ver aquí.
Para ver un documental en idioma Inglés de los eventos Zhanaozen en diciembre (Zhanaozen Kazakhstan's choice – stability or death), haga clic aquí.
Special financial appeal to all readers of socialistworld.net

Support building alternative socialist media

---

Socialistworld.net provides a unique analysis and perspective of world events. Socialistworld.net also plays a crucial role in building the struggle for socialism across all continents. Capitalism has failed! Assist us to build the fight-back and prepare for the stormy period of class struggles ahead. Please make a donation to help us reach more readers and to widen our socialist campaigning work across the world.

Donate via Paypal

CWI- Please inform us if you are reproducing any material from this site.