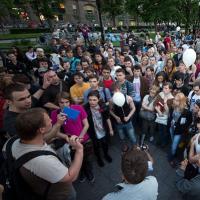 Police target socialists at protest camp – urgent protests needed!
Two members of the CWI in Moscow have today been arrested while participating in round-the-clock protests against Putin's rule, which have taken place in Moscow since 6 May. The camp was first located at "Chisti Prudi" in Moscow, until a judge decided to give the camp until noon last Wednesday to clear the site. The riot police, however, moved in at 5 a.m., forcing the protesters to decamp to another part of the "Boulevard ring-road", by the "Barricades" metro station.
The camp is increasingly self-organized, with an assembly discussing and taking decisions each evening. It is also becoming more politicized, with the central information centre organizing discussions, producing leaflets and other agitation literature.
The CWI comrades are at the centre of this work, and this has obviously frustrated the authorities. Early Friday evening, 18 May, police entered the camp and went directly to the information centre. They arrested two CWI members, Dmitrii Yerokhin and Kostya Zamurenko, and seized all the literature and equipment at the info-centre.
It is not yet clear what will happen to the two detained CWI comrades. Many of those protesters detained this week were released by police almost as soon as their details were taken. But those detained who are regarded as "organizers" have been given jail sentences of 5-15 days. We are concerned that the police will treat our CWI comrades harshly.
We urge all CWI supporters and socialistworld.net readers to urgently phone the police station where Dmitrii Yerokhin and Kostya Zamurenko are held and to demand their immediate release.
Telephone numbers:
+7 499 256 7575
+7 499 256 7511
+7 499 259 0075
Please send email protests to the Russian embassy in your country.