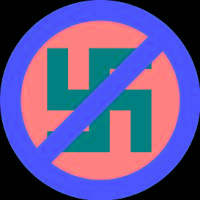 Hace tiempo que la extrema derecha se está a su vez reorganizando y comienza a verse como un peligro…
A nadie se le oculta que hemos entrado en una fase de intensificación de las luchas sociales en la que el capitalismo y el poder político que lo gestiona están cada vez más cuestionados. La crisis está creando situaciones personales dramáticas por su dureza y todo apunta a que todo ello se acentuará en los próximos meses. Los movimientos sociales y la izquierda revolucionaria tenemos que articular una respuesta social, democrática y radical al desorden del mundo. Pero también es cierto que este marco de crisis, desesperación individual y revuelta social da cierto espacio al oportunismo más populista y al fascismo más o menos explícito en el Estado español, para lo cual deberíamos estar preparados.
Hace tiempo que la extrema derecha se está a su vez reorganizando y comienza a verse como un peligro, tal vez con menos fuelle que en otros países europeos, por fortuna estamos lejos de lo que ocurre en Francia o en Bélgica, con una presencia de la extrema derecha desde hace más de veinte años, o en Grecia ahora, en plena crisis, donde el ascenso de un partido filonazi que ni siquiera lo disimula en su estética ha sido espectacular.
Uno de los motivos que se alegaron en los años noventa para explicar la falta de arraigo de un partido de extrema derecha en el Estado español fue que el PP, a través de la UCD y de AP durante la transición, había asimilado y dado un cauce político a los sectores mayoritarios del franquismo, los que apostaron por el pacto de la transición. Fue así hasta cierto punto. Pero poco a poco el PP se ha ido transformando en un partido neoliberal con toques ultraconservadores en algunos aspectos, pero más en la línea de la derecha europea y americana. Mientras, el franquismo puro y duro de inicios de la transición, organizado mayoritariamente en el partido Fuerza Nueva y que obtuvo un escaño en el Parlamento español a principio de la transición, el del enfático notario Blas Piñar, o la de los grupúsculos que bregaban por mantener íntegra la herencia del falangismo o la tendencia más ultra del carlismo ultramontano, por su parte, se rompió en pedazos a mediados de los ochenta, quedando apenas algunos reductos marginales.
Pero ahora de lo que hablamos es de una nueva extrema derecha, lejos ya de aquella. La nueva extrema derecha, aunque mantenga el tema de la unidad de España como un eje más o menos central, dependerá de la mayor o menos cercanía a la ortodoxia neofranquista, se decanta por nuevos derroteros como el de la inmigración y busca hacerse un hueco a través del descrédito de la política tradicional.
En Cataluña surgió uno de estos grupos de nuevo cuño construido alrededor de un antiguo militante de Fuerza Nueva, José Anglada, y que comenzó a explotar el tema de la inmigración. Con un lema simplón, «Los de casa primero», y un nombre menos pomposo que el de los ultras tradicionales, Plataforma x Catalunya ha ido entrando en importantes ayuntamientos, primero los de la Cataluña Central, en Vic por ejemplo, donde el propio Anglada es concejal, y en las últimas elecciones municipales en otros muchos ayuntamientos importantes, entre ellos el de algunas ciudades del área metropolitana de Barcelona. En las dos últimas elecciones al Parlamento de Cataluña se ha temido la entrada de este grupo que se ha quedado a las puertas de obtener representación, algo afectado por algunos escándalos de sus cuadros, pero sin duda de los grupos ultraderechistas existentes hoy es el que mayor apoyo ha recibido de momento.
En el resto del Estado el modelo de Plataforma x Cataluña se ha organizado de una manera similar. En Valencia se creó España 2000 a partir de pequeños grupos desprendidos del falangismo ultraderechista, esto es, con un discurso más o menos nostálgico del franquismo y obsesionado con la unidad de España, y grupos que se adaptaron al oportunismo de los tiempos y con un discurso similar al de PxC, como Democracia Nacional o el Movimiento Social Revolucionario, aun cuando las relaciones entre los diversos grupos no son siempre buenas y ha habido algunas rupturas internas. España2000, pese a todo, intenta extenderse a otras comunidades sin que hasta el momento haya cosechado buenos resultados más allá de algún concejal, aunque está atrayendo militantes jóvenes y de organizaciones tradicionalistas, y aprovechando la crisis para lanzar sus diatribas xenófobas.
Es previsible que en un futuro próximo, con un empeoramiento de la crisis, un aumento de desempleados y de personas que pierden las prestaciones y las ayudas sociales, con los recortes en sanidad, educación y otros ámbitos, comience a calar la xenofobia y al populismo. La desesperación puede dar alas a discursos fáciles e insolidarios que acusa a los extranjeros de ser los culpables de todos los males y oculta las vergüenzas del capitalismo. Por otro lado, la crisis territorial, con las demandas de soberanía de Cataluña y Euskal Herria, puede incentivar el discurso patriótico tradicional por la unidad de España e incluso contra las autonomías, aunque en este ámbito el propio PP y otros grupos sin carácter fascista y un discurso más o menos social, como Ciutadans o UPD, canalizan este sentimiento.
Aunque el fascismo no sea de momento un peligro palpable, a diferencia de otros países, hay que estar preparado para afrontarlo y atajarlo. En esta situación de total crisis social, económica y política, si la izquierda no consigue dar respuesta a la situación de descontento reinante en la clase trabajadora, dejará libre el camino a la extrema derecha para que llene ese hueco.
En Cataluña surgió una plataforma contra el fascismo a medida que PxC iba extendiéndose, la Unidad Contra el Fascismo (www.unitatcontraelfeixisme.org), que agrupa a un gran número de organizaciones políticas y sociales. Es importante romper un discurso demagógico y falso en el que se basan los fascistas y que busca separar por origen, los de aquí y los de fuera, y que tiende a la marginalización cuando no directamente a la criminalización. Además, es importante movilizarse ahora y así evitar su violencia a medida que crezcan y se crezcan. Pero también es muy importante que los inmigrantes participen activamente en los movimientos políticos, sindicales y sociales, ya que son la mayoría de ellos, al fin y al cabo, trabajadores y a ellos les afectan, al igual que a los trabajadores del Estado, la precariedad laboral y social, el desempleo y los recorte, contra los cuales sólo cabe la unidad de acción.
Special financial appeal to all readers of socialistworld.net

Support building alternative socialist media

---

Socialistworld.net provides a unique analysis and perspective of world events. Socialistworld.net also plays a crucial role in building the struggle for socialism across all continents. Capitalism has failed! Assist us to build the fight-back and prepare for the stormy period of class struggles ahead. Please make a donation to help us reach more readers and to widen our socialist campaigning work across the world.

Donate via Paypal

CWI- Please inform us if you are reproducing any material from this site.