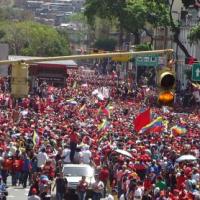 "!Burguesía no te equivoque que aquí hay un pueblo revolucionario!", "!ahora más que nunca revolución y socialismo!"
Durante la mañana-tarde de hoy estuvimos acompañando al pueblo pobre y explotado y la clase trabajadora de Caracas y los pocos que han podido llegar del resto del país, en la despedida del compañero Chávez.
La concurrencia masiva, se contrasta con la aparente tranquilidad y normalidad que se observaba en el resto de la ciudad, sobre todo al este, donde se concentra grande parte de los sectores burgueses y pro capitalistas, donde da la impresión que la táctica que opto hoy los sectores radicales de la derecha, al verse imposibilitados de hacer algún tipo de manifestación política, fue optar por la indiferencia.
Entre cantos combativos revolucionarios y nacionalismo radical.
Pero volviendo al centro de Caracas, donde se concentraban la mayoría del pueblo, era imposible no sentirse abrumado por el carrusel de emociones que se percibía en el ambiente, sentimientos de dolor, de perdida, pero también de lucha y de combate, con canciones del cantor revolucionario Ali Primera, el pueblo gritaba consignas de lucha como: "!Chávez somos todos la revolución continua!", "!burguesía no te equivoque que aquí hay un pueblo revolucionario!", "!ahora más que nunca revolución y socialismo!".
Sin embargo, al mismo tiempo de los cantos combativos del pueblo, la logística de sonido que dispuso el gobierno nacional para ambientar la larga marcha desde el hospital militar donde estuvo hospitalizado Chávez después de su regreso de Cuba y donde falleció, hasta el paseo de los próceres, sitio emblemático de los actos oficiales del estado venezolano, los cantos eran de contenido nacionalista, invocando constantemente el concepto de patria.
La manifestación de hoy en la despida del compañero Chávez deja claro que la mayoría de la población en Venezuela, esta con un sentimiento, intuición de revolución y radicalización del proceso; veremos en los próximos días, meses, nuevo periodo que se abre en Venezuela, si estos sentimientos se traducirán en un radicalización concreta del proceso hacia una triunfante y definitiva revolución socialista.
Nota: en el perfil del facebook: A luchar socialismo revolucionario, podran ver la galerias de fotos del dia de hoy.
Special financial appeal to all readers of socialistworld.net

Support building alternative socialist media

---

Socialistworld.net provides a unique analysis and perspective of world events. Socialistworld.net also plays a crucial role in building the struggle for socialism across all continents. Capitalism has failed! Assist us to build the fight-back and prepare for the stormy period of class struggles ahead. Please make a donation to help us reach more readers and to widen our socialist campaigning work across the world.

Donate via Paypal

CWI- Please inform us if you are reproducing any material from this site.