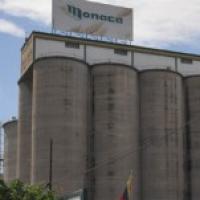 Denuncia la toma y militarizacion de su planta
Aproximadamente a la 5 de la mañana de este sábado la planta de MONACA, en Puerto Cabello Estado Carabobo, ha sido tomada por la Guardia Nacional Bolivariana, sin ninguna explicación hacia los trabajadores que han estado en conflicto con la patronal desde Agosto de este año.
Los trabajadores solicitan y necesitan, de toda la clase trabajadora en Venezuela e internacionalmente, a que se solidaricen con sus lucha y les apoyen en la exigencia hacia el Estado venezolano, a que se aboque a dar respuesta a las legitimas demandas de los trabajadores de MONACA.
Estos compañeros están desde hace 13 semanas sin recibir su salarios, y desde el 5 de agosto de este año, la patronal decidió unilateralmente cerrar la planta e iniciar una campaña de manipulaciones legales en complicidad con funcionarios burócratas del Estado venezolano del Misterio del Trabajo, para acusar a los trabajadores de ser culpables del cierre de la planta.
Los trabajadores han reafirmado una vez mas su compromiso de reactivar la planta, pero exige las garantías plenas del cobro de su salarios.
Los trabajadores ha estado denunciado la situación antes diferentes instancia del Estado venezolano sin que hasta ahora no hayan tenido respuesta alguna. Solo la que esta madrugada acaban de ser sorprendidos con la toma de mas de 100 efectivos de la Guardia Nacional Bolivariana.
Debemos estar alerta ante la posibilidad de una represión y criminalización hacia la lucha de los compañeros, y le solicitamos, haciéndonos extensivo el llamado de los compañeros de MONACA, a que los sindicatos, organizaciones políticas de izquierdas y organizaciones de derechos humanos e organizaciones sindicales y políticas revolucionarias a nivel internacional, apoyen esta lucha y envíen cartas de protesta ante los despachos de la Vice- Presidencia de la Republica, Ministerio de la Alimentación, del Trabajo y el Órgano Superior de la Economía, que ha sido la instancia reciente creada por el Gobierno Nacional para hacer frente a lo que han llamado guerra económica contra el pueblo y la clase trabajadora venezolana.
Nota: enviar cartas de protestas a los ministerios en Venezuela se ha convertido en algo complejo, acá ofrecemos algunos sitios de contacto que hemos rastreado por Internet:
Vice Presidencia de la Republica: twitter: @vicevenezuela, @jaarreaza
Ministerio de Alimentación, Fax. Despacho del Ministro: 0058-+212-578-46-66
Despacho de la Presidencia de la Republica: dggcomunicacional@presidencia.gob.ve
Twitter: @NoAlSabotaje, @NicolasMaduro
Inspectoría del Trabajo de Valencia Edo. Carabobo: Fax. 0058-+241-408-4393 / 4497
MONACA, www.monaca.com.ve/con_prin.html
Special financial appeal to all readers of socialistworld.net

Support building alternative socialist media

---

Socialistworld.net provides a unique analysis and perspective of world events. Socialistworld.net also plays a crucial role in building the struggle for socialism across all continents. Capitalism has failed! Assist us to build the fight-back and prepare for the stormy period of class struggles ahead. Please make a donation to help us reach more readers and to widen our socialist campaigning work across the world.

Donate via Paypal

CWI- Please inform us if you are reproducing any material from this site.