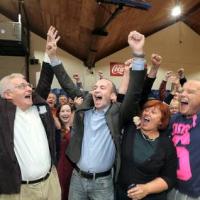 Anti-Austerity Alliance victory shocks political establishment, reflects mass revolt against water charges and austerity
In a stunning upset, Paul Murphy was yesterday elected TD (Irish MP) for the Dublin South West constituency in a byelection. A Socialist Party (CWI in Ireland) member and former MEP, Paul ran as an Anti Austerity Alliance candidate, in an race seen as a safe victory for Sinn Fein. However, in the context of the mass revolt taking place against the hated water tax, the AAA campaign was hugely successful. Yesterday also saw 50,000 take to the streets of Dublin against the water tax.
Paul won over 27% of the first preference vote, and then narrowly defeated Sinn Fein candidate, Cathal King, on transfers.
Paul is now one of 3 Socialist Party (CWI) members in the Irish parliament. The Anti-Austerity Alliance was initiated by the Socialist Party and seeks to build a new political movement for working people for an alternative to austerity.
Paul Murphy victory speech