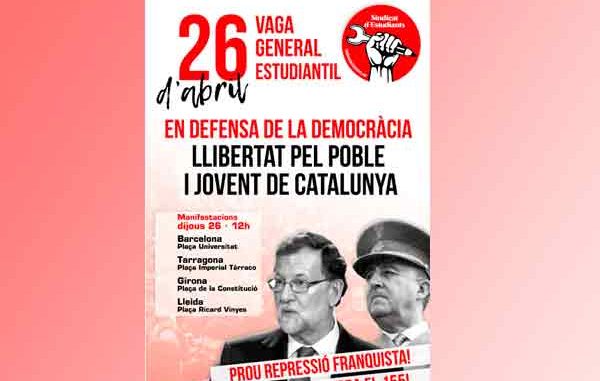 Prou repressió franquista! Fora el 155!
Catalunya viu avui un autèntic estat d'excepció franquista, on la sobirania popular ha estat suprimida per decisió del PP, Ciutadans i els dirigents del PSOE, i d'un aparell de l'Estat heretat directament de la dictadura.
Els empresonaments dels Jordis, dels consellers del govern, l'exili d'Anna Gabriel i Marta Rovira, l'arrest a Alemanya de Carles Puigdemont, els judicis contra professors i joves per les seves idees, i la campanya brutal de criminalització contra els CDR i els moviments socials, representen un gir autoritari sense precedents. Aquesta onada repressiva dels tribunals al servei del PP, ha posat de manifest que el bloc del 155 no accepta els resultats del 21D i el dret legítim del poble de Catalunya a decidir el seu futur.
Avui més que mai cal que alcem la nostra veu per evitar retrocedir als temps de la dictadura!
Li diuen democràcia i no ho és
El senyor Rajoy, assetjat per les protestes massives dels pensionistes i per la vaga general feminista del passat 8 de Març, té enormes dificultats per a enfrontar-se a un descontent creixent que amenaça amb transformar-se en un nou esclat social. És evident que el govern del PP i l'aparell de l'Estat han decidit una fugida cap endavant per a emmordassar tot un poble.
Li diuen democràcia però no ho és. És un escàndol que dirigents del PP que canten amb orgull davant una desfilada de legionaris "soy el novio de la muerte" com el portaveu del govern i Ministre d'Educació Iñigo Méndez de Vigo, pretenguin donar-nos lliçons de democràcia. Ells, que no s'amaguen en exaltar els himnes i símbols del franquisme, que pretenen espanyolitzar-nos a cop de porra, que han dissenyat una nova assignatura per enaltir l'exèrcit i la monarquia, són els que suposadament vetllen per l'anomenat "Estat de dret". No, no és un "Estat de dret" sinó de dretes, que empara la corrupció i enyora la dictadura.
El muntatge judicial dissenyat per a aixafar la voluntat democràtica expressada en el referèndum l'1 d'Octubre (que va atorgar 2.100.000 vots a la república catalana, més dels que va obtenir l'Estatut de Catalunya en el referèndum del 2006), ha estat denunciat per desenes de juristes i per la comissió de drets humans de l'ONU i Amnistia Internacional. Però aquesta farsa, impulsada pel mateix partit que va treure tan sols 4 diputats a les eleccions del 21D, forma part d'un atac de molt més profund, que va més enllà del moviment independentista. És un atac contra els treballadors i el jovent, independentista i no independentista, dins i fora de Catalunya!
Els atacs a la llibertat d'expressió han arribat a tal punt que s'empresonen joves i sindicalistes com Alfon o Andrés Bódalo, a cantants de rap que denuncien a les seves cançons a la monarquia, com és el cas de Valtonyc o Pablo Hassel, es segresten llibres i revistes, i es censuren obres d'art. Per descomptat, les agressions salvatges dels feixistes queden impunes, igual que les barrabassades dels càrrecs corruptes del PP que es lucren a mans plenes, o els familiars del rei com Iñaki Urdangarín.
No ens enganyen. Sabem molt bé que amb els mateixos arguments que avui empresonen dirigents independentistes es pot enviar a la presó als que organitzin vagues estudiantils, als que mobilitzin els pensionistes, a les organitzadores de la vaga feminista, als activistes de la PAH i a tot aquell que alci la veu per a denunciar les seves retallades, la seva corrupció i el seu autoritarisme. No ho podem permetre!
El 26 d'Abril: totes i tots als carrers i a la vaga general estudiantil!
La resposta immediata de centenars de milers de ciutadans, treballadors i joves després dels últims empresonaments i la nova onada repressiva ha estat exemplar. Tot i les brutals càrregues dels Mossos -que sumades a les de l'1 d'Octubre de la policia i la Guàrdia Civil s'han cobrat més de 1.200 ferits-, totes les mobilitzacions han demostrat una ferma decisió de defensar les nostres llibertats i no cedir ni un pas davant d'aquells que volen suprimir-les.
Ha quedat clar que no aconseguirem la llibertat i la democràcia a cap Parlament tutelat per un Estat centralista que segueix dominat per franquistes. Només podem aconseguir-ho amb la lluita, com ho van fer els nostres pares i avis als anys setanta!
Des del Sindicat d'Estudiants ho tenim molt clar. No volem viure emmordassats per qui ens retalla, ens roba i condemna a la precarietat i l'atur! Volem ser lliures! Per això convoquem a tots els i les estudiants de Catalunya a la vaga general estudiantil el proper 26 d'Abril, a buidar les aules i omplir massivament els carrers en defensa de la democràcia i la llibertat pel poble i jovent de Catalunya, per la derogació de l'article 155, per la llibertat de tots els presos polítics i la fi dels processaments, per la república del poble i contra la criminalització de les idees i els moviments socials. Fem una crida a totes les organitzacions de professors, de pares i mares d'alumnes, i als companys i companyes del SEPC, a convocar unitàriament aquesta vaga, perquè la unitat en la lluita és la millor manera de defensar els nostres drets.
El 26 d'Abril, tots i totes a la vaga i a les manifestacions!
No ens callaran!
26 de abril huelga general estudiantil en Catalunya ¡En defensa de la democracia y la libertad de la juventud y el pueblo de Catalunya!
¡Basta de represión franquista! ¡Fuera el 155!
Catalunya vive hoy un auténtico estado de excepción franquista, en el que la soberanía popular ha sido suprimida por decisión del PP, Ciudadanos y los dirigentes del PSOE, y de un aparato del Estado heredado directamente de la dictadura.
Los encarcelamientos de los Jordis, de los consellers del govern, el exilio de Anna Gabriel y Marta Rovira, el arresto en Alemania de Carles Puigdemont, los juicios contra profesores y jóvenes por sus ideas, y la campaña brutal de criminalización contra los CDR y los movimientos sociales, representan un giro autoritario sin precedentes. Esta oleada represiva de los tribunales al servicio del PP, han puesto de manifiesto que el bloque del 155 no acepta los resultados del 21D y el derecho legítimo del pueblo catalán a decidir su futuro.
Hoy más que nunca es necesario que alcemos nuestra voz para evitar que nos devuelvan a los tiempos de la dictadura.
Lo llaman democracia y no lo es
El señor Rajoy, acosado por las protestas masivas de los pensionistas y por la huelga general feminista del pasado 8 de marzo, tiene enormes dificultades para enfrentarse a un descontento creciente que amenaza con transformarse en un nuevo estallido social. Es evidente que el gobierno del PP y el aparato del Estado han decidido una huida hacia delante para amordazar a todo un pueblo.
Lo llaman democracia pero no lo es. Es un escándalo que dirigentes del PP que cantan con orgullo ante un desfile de legionarios "soy el novio de la muerte", como el portavoz de gobierno y Ministro de Educación Iñigo Méndez de Vigo, pretendan darnos lecciones de democracia. Ellos, que no se recatan en exaltar los himnos y símbolos del franquismo, que pretenden españolizarnos a porrazo limpio, que han diseñado una nueva asignatura para ensalzar al ejército y la monarquía, son lo que supuestamente velan por el llamado "Estado de derecho". No, no es un "Estado de derecho" sino de derechas, que ampara la corrupción y añora la dictadura.
El montaje judicial diseñado para aplastar la voluntad democrática expresada en el referéndum del 1 de octubre (que otorgó 2.100.000 votos a la república catalana, más de los que obtuvo el Estatut de Catalunya en el referéndum de 2006), ha sido denunciado por decenas de juristas y por la comisión de derechos humanos de la ONU y Amnistía Internacional. Pero esta farsa, impulsada por el mismo partido que sacó tan sólo 4 diputados en las elecciones del 21D, forma parte de un ataque de mucho más calado, que va más allá del movimiento independentista. ¡Es un ataque contra los trabajadores y la juventud, independentista y no independentista, dentro y fuera de Catalunya!
Los ataques a la libertad de expresión han llegado a tal punto que se encarcelan a jóvenes y sindicalistas como Alfón o Andrés Bódalo, a raperos que denuncian en sus canciones a la monarquía, como es el caso de Valtonyc o Pablo Hassel, se secuestran libros y revistas, y se censuran obras de arte. Por supuesto, las agresiones salvajes de los fascistas quedan impunes, igual que las tropelías de los cargos corruptos del PP que se lucran a manos llenas, o los familiares del rey como Iñaki Urdangarín.
No nos van a engañar. Sabemos muy bien que con los mismos argumentos que hoy encarcelan a dirigentes independentistas se puede enviar a prisión a los que organicen huelgas estudiantiles, a los que movilicen a los pensionistas, a las organizadoras de la huelga feminista, a los activistas de la PAH y a todo aquel que alce la voz para denunciar sus recortes, su corrupción y su autoritarismo. ¡No lo podemos permitir!
¡A las calles y a la huelga general y estudiantil el 26 de abril!
La respuesta inmediata de cientos de miles de ciudadanos, trabajadores y jóvenes tras los últimos encarcelamientos y la nueva oleada represiva ha sido ejemplar. A pesar de la brutales cargas de los Mossos —que sumadas a la del 1 de octubre de la policía y la Guardia Civil se ha cobrado más de 1.200 heridos— todas las movilizaciones han mostrando una firme decisión por defender nuestras libertades y no ceder ni un paso ante quienes quieren suprimirlas.
Ha quedado claro que no vamos a conseguir la libertad y la democracia en ningún Parlament tutelado por un Estado centralista que sigue dominado por franquistas. ¡Sólo podemos lograrlo con la lucha, como lo hicieron nuestros padres y abuelos en los años setenta!
Desde el Sindicat d' Estudiants lo tenemos muy claro. ¡No queremos vivir amordazados por quienes nos recortan, nos roban y nos condenan a la precariedad y al paro! ¡Queremos ser libres! Por eso convocamos a todos los estudiantes de Catalunya a la huelga general estudiantil el próximo 26 de abril, a vaciar las aulas y llenar masivamente las calles en defensa de la democracia y la libertad para la juventud y el pueblo catalán, por la derogación del artículo 155, por la libertad de todos los presos políticos y el fin de los procesamientos, por la república del pueblo y contra la criminalización de las ideas y los movimientos sociales. Llamamos a todas las organizaciones de profesores, de padres y madres de alumnos, y a los compañeros y compañeras del SEPC, a convocar unitariamente esta huelga, porque la unidad en la lucha es la mejor manera de defender nuestros derechos.
¡26 de abril. Todos a la huelga y a las manifestaciones!
¡No nos van a callar!
Special financial appeal to all readers of socialistworld.net

Support building alternative socialist media

---

Socialistworld.net provides a unique analysis and perspective of world events. Socialistworld.net also plays a crucial role in building the struggle for socialism across all continents. Capitalism has failed! Assist us to build the fight-back and prepare for the stormy period of class struggles ahead. Please make a donation to help us reach more readers and to widen our socialist campaigning work across the world.

Donate via Paypal

CWI- Please inform us if you are reproducing any material from this site.