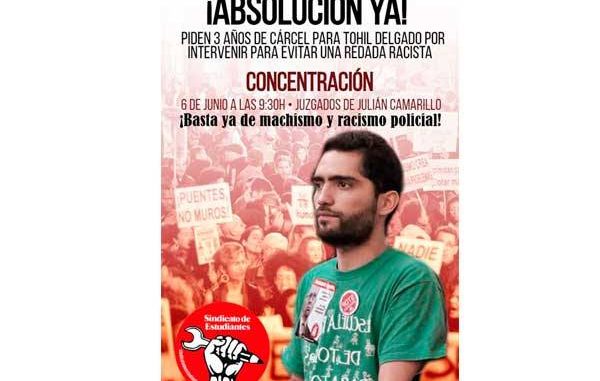 On Wednesday, 6 June, our comrade, Tohil Delgado, former general secretary of the Sindicato de Estudiantes (SE) [Student Union] and member of the Izquierda Revolucionaria (Revolutionary Left – CWI in Spanish state), will sit in the dock in criminal court No. 8 in Madrid. He faces a three-year prison sentence for "attack on authority". His crime is coming to the aid of a 21-year-old immigrant girl who was being savagely beaten by the police in a racist raid.
This happened in 2010. Our comrade could have walked away and looked the other side, but he did not. The young woman's relatives – also Ecuadorian – tried to avoid the police aggression. But all of them ended up in prison cells for 39 hours, along with Tohil. During their arrest and transfer and for the duration of their time on jail, they were beaten and received death threats and racist insults. They did not receive water or food for more than eight hours. They were not allowed to communicate with anyone. Unfortunately, this is not an isolated case. It has been and it is a daily reality for many migrants, often the victims of police persecution and racist raids in our neighborhoods, where they are treated deplorably, without respecting their basic rights.
Comrade Tohil faces three years in prison for standing up against a brutal and unjust act. Two of the policemen who attacked him insist that they were the ones attacked. But there are videos – recorded by alarmed neighbors – in which it is clear that the only violence was perpetrated by the police. Once again, we are facing an increasingly widespread reality of treating victims as perpetrators.
"They will not silence us"
This great injustice is not a unique case either, not by a long chalk. Every day we witness how justice is used against anyone who stands up against inequality, who denounces injustice and who tries to change things. For this simple reason, the prisons are now the destination of rappers, twitterers, trade unionists and activists of the left. Meanwhile, politicians and corrupt businessmen, relatives of monarchs and other influential people, defenders of the regime, of the precariousness, sexism and evictions have free reign as if nothing happened. But they will not silence us.
From the Students' Union (SE) and Libres y Combativas, the socialist feminist platform of SE and Izquierda Revolucionaria (CWI in Spanish state) we call on all those who agree that this has to stop to show solidarity with our partner. If Tohil Delgado is sentenced to prison, it will be a sentence against all of us who fight in the streets. We ask you to spread this case, to sign the resolution in protest asking for his acquittal.
A solidarity demonstration will take place for Tohil and the rest of the accused on Wednesday, 6 June, in front of the criminal courts, Madrid. With mass pressure we can prevent this injustice from taking place.
Enough sexism and police racism!