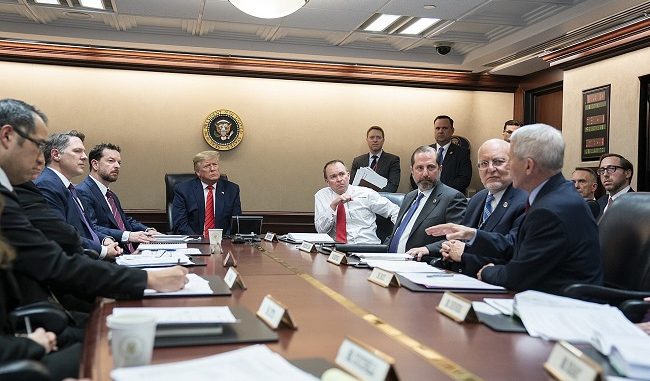 The coronavirus pandemic has laid bare the inadequacies of capitalism internationally, and the problems with private healthcare in the United States, in particular.
After months of the corporate media blaming 'socialism' for food and consumer goods shortages in countries like Venezuela, workers in the US are faced with barren store shelves due to panic buying. We are forced to wait hours on end to contact private hospitals – only to find that we aren't eligible to receive Covid-19 testing or our insurance won't cover it.
This lack of available testing and delayed federal response have allowed the virus to fester in the country's major city centres. There are nearly 3,000 confirmed cases in 49 states, and likely many more untested affected individuals.
Meanwhile, the housing crisis, scarcity of paid sick leave, and lack of full-time employment at a living wage, force millions to go into work sick or risk missing rent and being evicted from their homes.
President Donald Trump finally declared a national state of emergency on 14 March. But a federal aid package of $50 billion still awaits Senate approval, and will likely take even more time to be distributed to state governments.
While Congress and the Trump administration ignored the plight of working people, it only took hours for the Federal Reserve to inject the debt markets with $1.5 trillion in the hope of saving the profits of capitalist speculators. This sum – capable of paying off the entire nation's student loan debt – resulted in a mere 20 minutes of market growth, followed by further decline!
Political duopoly
Capitalism and the political duopoly of the Democratic and Republican parties are to blame for the US's incompetent response to Covid-19. Both corporate parties have routinely cut funding for social services and blocked efforts at universal healthcare. The Trump administration even sacked officials tasked with preventing pandemics.
As the pandemic runs its course, unions, workers and young people may have to fight for the necessary resources to manage it. And, we should prepare to enter a new period of struggle, including building a mass workers' party and fighting for socialist policies, to ensure access to healthcare and other necessities for all.
The Independent Socialist Group (the United States co-thinkers of CWI ) calls for:
Testing and new vaccines and treatments for Covid-19 to be free and accessible to everyone when available
Improved 'Medicare for all' as a step towards universal, publicly-owned healthcare
Taking big pharmaceutical companies and hospitals into democratic public ownership
No lay-offs or evictions during the pandemic! We need a federal guarantee for paid sick leave and an immediate rent and mortgage freeze