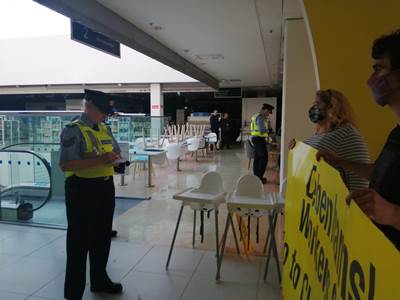 Three Debenhams strikers, shop steward, Jane Crowe, Doreen Keegan, and myself, were arrested along with members of Militant Left [CWI Ireland] and other left organisations in Dublin on Tuesday, 8 September, following an occupation of the Debenhams flagship store. We were arrested, held in individual cells, and then released. Another occupation in Cork is still ongoing. Our union, Mandate, expressed their sympathy and understanding for the action, which is welcome. Other strikers gathered outside the Garda [police] station until we were released. We then held a rally and marched to the Dáil [Irish parliament building] to demand justice for Debenhams workers.
The occupations are the latest step in a struggle that has been going on for over 150 days. At the beginning of the Covid 19 pandemic in Ireland, while most shops on the high street closed, Debenhams stores around the country remained open. We continued to work with little or no PPE and in unsafe conditions until the store finally shut for what we were promised would be a short time. A few weeks later, I and 954 of my colleagues received an email to say we no longer had a job and that Debenhams would be leaving Ireland. We were told that we should contact the Department of Social Protection for two weeks' statutory redundancy.
Our union shop stewards were quick to seek advice and determine the best way to fight this sudden departure. Over 150 days later, we continue to hold picket lines and protest at all eleven stores across the south of Ireland seeking redundancies. Our demands have been simple: two weeks wages per year on top of the statutory redundancy payment, as negotiated by Mandate for our contracts in 2016. While company liquidators, KPMG, and Debenhams have claimed the company cannot afford to pay their workers this figure, we on the picket lines believe very differently. The stock within the stores, which the liquidators have been attempting to recover, is estimated to be valued somewhere in the range of €25 million. KPMG wants to access this stock in order to pay back creditors. We believe that the workers, some of whom have given 30 years and longer service to the company, should be first in line to receive a pay-out.
Stopping the stock leaving the premises has proven to be our primary bargaining power in negotiations. Last week, a derisory offer was put forward following talks between KPMG and Mandate officials. Unfortunately, none of our shop stewards were present. As soon as they became aware of the details of the offer, it was rejected by the stewards from all eleven stores.  The offer would see two stores re-opening for a limited period in order to sell off the stock that remains on-site, with €1 million to be shared between the employees after the sales. We would also receive a 33% cut of the profits, but whether the stores make any profit, at all, is up for debate. The offer amounted to on average one day per year of service!
We believe the deal to be an insult. However, it does prove one thing: That we are correct about our industrial action power. Maintaining the picket lines has been our top priority, and our resolve to continue the struggle has been strengthened by the insulting offer which has now been taken off the table by KPMG.
Resilient mood
The mood is resilient on picket lines across the country, and plans are being made to escalate the dispute even further. We believe that in order to win, we must have the full backing of the trade union movement. We call on Mandate to allow us full access to their resources and to mobilise other Mandate members to come out and support us. We have received messages of support from various trade unions and trades councils internationally, which is something we hope will continue.
We must also look to building a fighting democratic trade union movement here in Ireland. This would mean the union movement rejecting one-sided industrial relations that always favours the bosses; unions fighting to defend members' terms and conditions of employment and jobs; shop stewards being included in all negotiations and discussions; a right to recall negotiating officials; and negotiating officials taking the same wage as the workers they represent.
Ultimately, the impact of this struggle goes far beyond the Debenhams workers. It is a struggle for workers across the country and the world – we are all expected to pay the price of Covid-19 and the economic uncertainty that has followed in its wake.