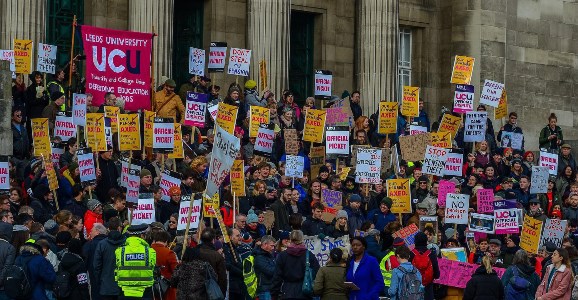 Over 70,000 University and College Union (UCU) members will strike in all UK universities on 24, 25 and 30 November. The workers are picketing on 24 and 25 November and then heading to London for a UCU demonstration on Wednesday 30 November.
The Socialist Party (CWI England & Wales) thinks the 30 November should be a massive trade union demo of all striking workers, and those fighting the cost-of-living squeeze.
---
Why I'm striking
"We are maximally exploited"
Anthony Bracuti, UCU member, PhD student, Leeds
In the scientific community, most research is undertaken by postgraduate researchers (PGRs). In Britain, we are maximally exploited: officially, 'full-time PhD students', to justify no sick leave, poverty pay, and no maternity support, but 'research staff' when it comes to loading us with unpaid teaching or committee work. Even the paltry £650 offer made to University of Leeds staff on lower pay grades was withheld from PGRs on the basis that students were not eligible.
My university is a red-brick Russell group institution with almost £1 billion in assets around the city, and a vice-chancellor with a wage in the hundreds of thousands (notwithstanding the house, car, and other expenses paid for).
Despite this, management reason that poverty wages for their teaching and facilities staff are not only justifiable, but fair. They have cut wages in excess of 40% (via stagnation and through pension cuts); rapidly expanded zero-hour and short-term casualised contracts; done nothing to end the gender, racial, and disability pay gaps; and loaded an increasingly dangerous workload onto already-overworked and rapidly declining staff, without even the dignity of greater pay for more work.
The experiences of my colleagues, and my own experience – which is not even close to being the worst that I have witnessed – have shown me the imperative need to fight back. We hate to hurt the students, but it is the only option we have.
"Workers are the ones who keep this country running"
Emily Hotine, UCU member, Oxford
The pandemic brought into sharp focus the fact that the most essential workers in this country also tend to be the most poorly paid. We stood outside our homes and clapped for nurses, then the Tory government turned around months later and refused them a pay rise.
Now low-paid workers are staring down the barrel of an economic crisis. In real terms, our pay is falling, while inflation is nearly 13%. The energy bill for an average UK household is projected to increase from £2,500 to £4,347 after April. The cost of food is increasing. Monthly average mortgage payments have risen by £300. At a time when corporate profits continue to rise while real wages continue to fall, it is workers that are expected to shoulder the burden of the government's actions.
I am striking in the hope that more join us in taking a stand and recognise what we are worth. We are the ones who generate those corporate profits. We are the ones who keep this country running. We are the workers.
And we shouldn't be squeezed until we can no longer afford food, or warmth, or a place to live. To call this government's actions 'ineptitude' is naïve: it is class warfare.
---
Oxford student: Why I support UCU strikes
Callum Joyce, Oxford Socialist Students
The University and College Union (UCU) is fighting for above-inflation pay rises and action to deal with precarious working hours and stressful conditions.
Undoubtedly, the university vice-chancellors and the government will protest over the effect of the strike on education, with students missing classes. Perhaps they should take a look at themselves, and the problems they have caused through years of cuts to funding, mountains of student debt, and rising stress-related mental health issues among university staff. All this while vice-chancellors are paid over £250,000 a year on average.
It is vital that students fully support the strike. Showing the government and university bosses that students stand in solidarity with striking workers can strengthen the action and help to secure victory. It is part of the fightback against the cost-of-living crisis.
Socialist Students is leading the charge on campuses, linking up with UCU branches, and campaigning to bring more students into a joint struggle. The fight over pay and conditions cannot be separated from the cuts to our education. To ensure a decent education for all students and a decent standard of living for those who provide it, we need full public ownership of universities, with proper funding and democratic control over how they are run by staff and students.