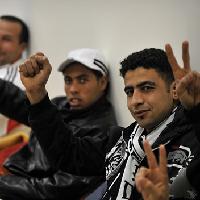 "Act now – protest to Greek authorities"
Three hundred 'undocumented' immigrant workers began a hunger strike, on 25 January, demanding papers and equal rights. They decided to organize the hunger strike after they held a series of 'democratic assemblies'. Xekinima (CWI in Greece) and its immigrant members' branch were involved from the very beginning in the campaign's Solidarity Committee.
Most of the '300' originally come from Mahgreb countries, and are fully integrated in Greek society, where they have lived and worked here for several years, although without any rights, at all. A large number previously had residence and work permits, which they lost due to the economic crisis that forced them out of the labor market. As legal immigrants they immediately loose their legal status if they do not complete 200 hundred days of social insurance payment in the course of one year.
As the mass hunger strike approaches its 30th day, the organisers sent a new international appeal, below.
Socialistworld.net
As the hunger strike of 300 approaches its thirtieth day, the strikers are in dire need of multinational support! It is time to act now! Fax, E-Mail and phone the Greek authorities and demand immediate legalisation now.
Please note that it is always better if you compose a text on your own. It doesn't need to be long! If you do so, please inform us at: hungerstrike300@gmail.com.
Here are the e-mail addresses of the Greek prime minister, the interior minister, the public order minister and the labor minister and vice minister:
dialogue@politicalforum.gr, ypourgos@ypes.gov.gr, info@ypes.gr, papoutsi@otenet.gr, pressoffice@yptp.gr, Louka.katseli@parliament.gr, anna.dalaras@gmail.com
Fax numbers:
Ministry of Interior, fax: 0030 2103665089,
Ministry of Citizen Protection, fax: 0030 2103387708
Ministry of Labour, fax: 2105249805, 0030 2103213688