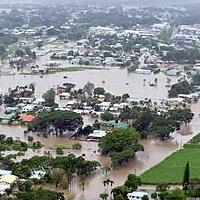 Prime Minister Gillard: "Tough choices" making working people pay for the clean up
Millions of ordinary Australians have been touched by the heart-wrenching scenes from Queensland and have responded with great generosity. The devastating floods have killed at least 20 people and destroyed the homes of tens of thousands more.
The economic damage caused by the floods is expected to be huge with some economists estimating that 1% could be wiped off GDP. Billions more will be lost through reductions in revenue with the mining sector alone losing an estimated $100 million a day. All this will cost jobs.
Julia Gillard (Labour Party Prime Minister) has said that that paying for the clean up and bringing the budget back to surplus will entail some "tough choices". This means that workers will be forced to pay for the clean-up as the government will make cuts to jobs and services elsewhere.
While the politicians would like us to believe that this disaster is entirely the fault of nature, the government's preparation and reaction to these floods must also be called into question. The Australian has revealed that as far back as a decade ago government reports called for "radical changes in planning strategy, emergency plans and transparency about the true flood levels for Brisbane".
This advice was rejected and covered up by state officials in order to allow development in flood prone areas. The Brisbane River Flood Study undertaken in 1999 correctly predicted that tens of thousands of low lying properties would be devastated by floods if adequate preventative measures were not taken. While knowing the risks, councils told residents who purchased land in low lying areas that they would not be at risk in the event of a 1974 scale flood. This shows just how illogical the capitalist system is when people's lives are put at risk so that a few property developers and speculators can profit.
Barnaby Joyce has called for more dams to be built as a solution to flooding. However as hydrological expert Tony Weber pointed out the rains equalled 7.5 billion tonnes of water, equal to 15 Sydney Harbours. "We would have to create a dam five or ten times larger than (current dams) to have a sizeable impact on that, if we did, there would be far more water being lost to evaporation with the larger surface area."
Dams were mismanaged in the absence of workers' control. Hydrologist Aron Gingis, criticised dam operators for maintaining maximum capacity leaving no room to absorb the rains. "There is no doubt in my professional opinion that most the flooding in Brisbane should have been avoided", he claimed.
Disappointingly the rebuilding of flood-affected areas will also be dominated by the profit motive. Greedy insurance companies are already rejecting claims despite record takings in recent years. The consumer group Choice has warned that many insurers are attempting to reject claims on the basis of confusing policies which give multiple definitions of flood coverage. Choice spokeswoman Ingrid Just stated "There is not one standard definition for floods and that makes it very difficult for people to understand what they're covered for."
Construction companies from as far afield as Victoria are circling like vultures to get a piece of the lucrative reconstruction dollar. For them the devastation is like a second stimulus package that will drive up their share prices.
The link between the floods and climate change is something that has been largely ignored in the mainstream press. Climate scientists have concluded that the recent extreme weather seen throughout the world is the result of man-made climate change. Climatologist Matthew England told Reuters that "the waters off Australia are the warmest ever measured and those waters provide moisture to the atmosphere for the Queensland monsoon". The natural La Nina and El Ninos are now "operating in a hotter world", believes David Jones, the Bureau of Meteorology chief.
The priorities of the government can also be seen when you look at the pittance given in aid to flood victims. Miniscule payments of between $1000 and $10,500 are available for people who have lost their homes and all their belongings. Some of these payments are means tested and not available to those with some form of insurance.
While natural disasters are often unavoidable they are definitely made worse by the profit-driven system of capitalism. On the basis of a planned socialist system that put people's needs before profits, we could reduce the impacts of natural disasters and act much more quickly to deliver aid. We could also implement democratic community control of the rebuilding effort so that priority is given to the most disadvantaged, rather than those with the most political and financial power.