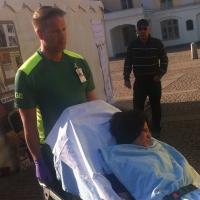 Defend the right to asylum!
Fifty political refugees are currently on a hunger strike in Gothenburg, Sweden, for their right to asylum. They are from Iran and have been living in Sweden between 2 and 12 years.
Today, 11 May, is the ninth day of the hunger strike. Three protesters were taken to hospital and are still refusing to stop the hunger strike.
Even the mass media are pointing out the inhumane asylum policies as the reason for why these protesters risking their health and lives.
The hunger striking refugees are political activists who have been fighting against the regime in Iran. Many of them were imprisoned, tortured and persecuted by the regime.
Rättvisepartiet Socialisterna (RS – CWI Sweden) organized a protest, together with refugees, to show solidarity with the hunger strikers. Around 300 people turned out to the action, in Gustav Adolf Square, in Gothenburg.
Under international law, the 'Aliens Act' states: 'The refusal of entry and expulsion of an alien may never be enforced to a country where there is fair reason to assume that
the alien would be in danger there of suffering the death penalty or being subjected to corporal punishment, torture or other inhuman or degrading treatment or punishment or
the alien is not protected in the country from being sent on to a country in which the alien would be in such danger.'
Sweden is clearly breaking this law by deporting political refugees to Iran.
One of the hunger strikers on the way to an ambulance
Rättvisepartiet Socialisterna appeals to CWI comrades everywhere, union activists and others to send protests to the Swedish government and immigration authority.  For example, you can state: "We have heard about the hunger strike of 50 political refugees in Gothenburg. We demand they immediate get a fair trial and political asylum".
The hunger strikers demands include:
Give us a fair trial!
Respect the right of asylum!
Asylum for every political refugee!
Send protests to:
Migration Board:
migrationsverket@migrationsverket.se
Migration Minister Tobias Billström's secretary:
agneta.ryden@justice.ministry.se
Send copies to RS: kristofer.lundberg@socialisterna.org, and to the refugees: amnesti_2011@yahoo.com.