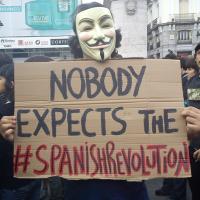 "May 15 movement" holds country-wide demonstrations
After a tremendous demonstration against cuts last Saturday, 14 May, in Barcelona, with 250,000 participants, this week saw the development of the "May 15 movement". Unemployed and students took to the streets. Inspired by the demonstrations in Portugal and the revolutions in the Maghreb and Middle East, especially Egypt, young people occupied Puerta del Sol, one of the main squares of Madrid. Police repeatedly tried to break up the protest but the youth defended their "Tahir Square".
There is a marked change in the mass mood and objective situation in Spain. It is reflected in the youth movement – also called "Real Democracy Now" – which has developed. The protests that have been organised developed on facebook and twitter.
Although the protests are not very big in terms of numbers participating, they reflect a change in sentiment amongst the youth.
At this stage, only a few thousand are occupying squares in various cities and around 10,000 occupy Madrid during evenings. These protests are scheduled to end next Sunday, when local elections take place.
The largest mobilisation of this new movement took place last weekend, when 150,000 demonstrated throughout the country.
There are the outlines of a more clearly anti-capitalist consciousness, which is reflected in demands and slogans: "We are not commodities and we demand a social change" – "Politicians are for the banks and speculators", "For a social change now" and for "A Spain of the poor". There is intense hostility towards all the main political parties and the politicians.
Some workers joined the protests. At the same time, there is intense hostility towards the trade unions by many of the protesting youth and there is no distinguishing between the bureaucratic union leaders and the rank and file. Some workers are on these protests and have the same attitude towards the unions.
Barcelona, 14 May 2011
The youth protest movement in Barcelona is smaller, partly because many other things are going on in the city, for example, last Saturday there was an anti-cuts demonstration of 250,000.
The Financial Times (London, 19 May) reported on Puerta del Sol: "'What you are seeing is indignation', said Paloma Mas, a 24-year-old biology researcher, seated under a plastic canopy where she planned to stay until the weekend elections. 'We only have two political parties in this country, only two choices. Young people cannot find work. It feels like the current system is making us pay for a crisis that we didn't create'.
"The entrance to the Sol metro station was plastered with handwritten demands, proposals and petitions. 'If you don't let us dream, we won't let you sleep,' said one banner. 'We are not anti-system, we want to change the system', said another."