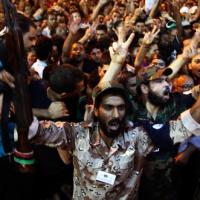 LA INTERVENCIÓN DE LA OTAN EN LIBIA ES UN INTENTO DE CONTROLAR LAS REVOLUCIONES ÁRABES
Los intereses de las grandes empresas europeas y americanas ya están vergonzosamente maniobrando para agarrar lo que puedan de los lucrativos contratos de petróleo y reconstrucción en la Libia pos-Gadaffi .
El periódico británico "Independent" del miércoles lo resumió en un artículo titulado "La pugna por los beneficios económicos toma la delantera en la posguerra libia.": "Las empresas británicas están retornando rápidamente a Libia en anticipación del final de la guerra civil de este país, pero están preocupadas porque sus rivales europeas y norteamericanas ya se le han adelantado en una carrera por los beneficios que se puedan obtener de esta nación rota por la guerra. (…) Las figuras empresariales saben que pueden ganar miles de millones en los próximos años en la reconstrucción de Libia."
Esto no debería ser una sorpresa para nadie ya que, durante décadas, la política sobre Libia adoptada por los poderes y empresas occidentales ha estado marcada por una hipocresía nauseabunda.
Durante sus cuarenta años de dictadura sobre los 6,5 millones de habitantes de Libia, Gadafi tuvo en la cabeza grandes fantasías sobre su propia importancia como líder árabe, tomando la postura de campeón por la liberación de los pueblos oprimidos alrededor del mundo. La realidad era bastante diferente.
La "Gran República Árabe Socialista del Pueblo Libio", no era ni socialista ni era una democracia del pueblo, sino que reprimió brutalmente toda oposición al régimen. Y como suele ser la costumbre, Gadafi se enriqueció, al igual que su familia y esbirros, con el mismo cinismo que si hubiera sido un oligarca ruso o un multimillonario americano.
La aseveración de los poderes de la OTAN de que su campaña de bombardeo se hizo por razones humanitarias estaba vacía desde el principio. La gente no ha olvidado las mentiras que los líderes de la OTAN en Estados Unidos y Gran Bretaña contaron para justificar su invasión de Iraq y los cientos de miles de vidas que esta particular intervención "humanitaria" se ha cobrado desde 2003. Además, estos líderes no se preocuparon en absoluto por el desafortunado pueblo de Baréin, que se movilizó valientemente por la democracia y el cambio y ha sido masacrado hace tan solo unos pocos meses por tropas de Arabia Saudí con la complicidad no admitida de la "humanitaria" OTAN. Y ni siquiera hemos escuchado de éstos una protesta en defensa de la gente oprimida en la propia Arabia Saudí, el aliado más cercano que tienen los poderes occidentales en el mundo árabe.
La razón real para esta rápida intervención de los mayores poderes occidentales en Libia era doble: garantizar el flujo de petróleo, e intentar controlar la revolución árabe, después de haber sido cogidos fuera de juego cuando los magníficos movimientos pro-democráticos explotaron en la primavera árabe. Recordemos la oferta del gobierno francés de enviar policías antidisturbios para ayudar a la dictadura tunecina a restaurar el orden en respuesta al levantamiento en este país. Recordemos también que la dictadura de Mubarak en Egipto fue inicialmente apoyada por Estados Unidos y que virtualmente todos los dictadores del mundo árabe fueron militarmente equipados por la industria armamentística occidental y políticamente apoyados por Estados Unidos, Gran Bretaña y Francia.
Gadafi no fue una excepción. Una vez que desaparecieron sus flirteos con varios grupos terroristas como el IRA en Irlanda y las Brigadas Rojas en Italia, y los ataques a objetivos militares estadounidenses terminaron, fue rehabilitado por el imperialismo occidental como expresaron las obsequiosas visitas del primer ministro Blair a la tienda de Gadafi cerca de su ciudad natal, Sirte. Las ventas lucrativas de armas y la garantía del desesperadamente necesario petróleo hace que mágicamente los defensores de la democracia olviden y perdonen los crímenes pasados de las dictaduras salvajes y hagan la vista gorda a las presentes represión y tortura.
El Consejo Nacional de Transición (CNT), cuya base se encontraba hasta ahora en la ciudad oriental de Bengasi, y que reclamaba representar a la oposición a Gadafi, es una criatura de los poderes de la OTAN. Inicialmente, el levantamiento en esta ciudad era representativo de toda la población, incluyendo particularmente a los trabajadores y los pobres. Sin embargo, gradualmente han llegado a dominarlo elementos pro-mercado e incluso antiguos tenientes de Gadafi que abandonaban un barco a punto de hundirse. El CNT ya ha garantizado que los contratos que Gadafi firmó con gobiernos y empresas petroleras occidentales se llevarán a término.
Reemplazar a un tirano excéntrico con un gobierno que puede adoptar las formas de la democracia pero que acepta seguir sojuzgado a los intereses comerciales de las multinacionales y a las presiones políticas de los gobiernos neoliberales de Europa y Estados Unidos no cumplirá con las aspiraciones del pueblo libio. Éste demandará libertad y derechos democráticos, pero también que la riqueza de su país se utilice para el beneficio de todos, y no para las grandes empresas occidentales. Esto solo podrá conseguirse cuando las políticas de los gobiernos capitalistas de la OTAN sean rechazadas.
De hecho, el momento clave para el conjunto de la revolución árabe – que debe aún desarrollarse – llegará cuando los trabajadores y los pobres se organicen para que al derrocamiento de los dictadores le siga la caída de las élites políticas y económicas en las que descansaban, y la toma de la riqueza de los países de forma pública y democrática por el beneficio de todos.
Special financial appeal to all readers of socialistworld.net

Support building alternative socialist media

---

Socialistworld.net provides a unique analysis and perspective of world events. Socialistworld.net also plays a crucial role in building the struggle for socialism across all continents. Capitalism has failed! Assist us to build the fight-back and prepare for the stormy period of class struggles ahead. Please make a donation to help us reach more readers and to widen our socialist campaigning work across the world.

Donate via Paypal

CWI- Please inform us if you are reproducing any material from this site.