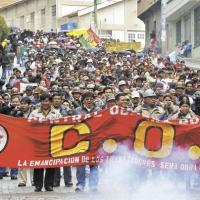 El movimiento indígena y la huelga general provocan la dimisión de cinco ministros
La situación política en Bolivia ha alcanzado un punto de inflexión. El gobierno se está enfrentando a una gran crisis después de que un movimiento masivo de los indígenas, seguido de una sólida huelga general, haya obligado a cinco ministros a presentar su dimisión.
El pasado domingo, una gran marcha indígena nacional llegó a la capital, La Paz. Esta fue la culminación de una marcha de protesta de meses contra la construciión de una autopista a través de una reserva india en el Amazonas. La autopista se está construyendo para failicitar al gran capital brasileño exportar sus productos a través del Océano Pacífico.
Los manifestantes encontraron en La Paz una represión brutal, ya que la policía usó las porras y gas lacrimógenos para romper las concentraciones. Además, los líderes del movimiento fueron detenidos.
En respuesta a este brutal tratamiento al movimiento, hubo una explosión de furia el miércoles. La Central Obrera Boliviana – COB – que es la principal federación sindical en Bolivia, declaró una huelga general. La huelga fue muy sólida y causó una parálisis en la capital. Tres ministros del gobierno dimitieron en protesta por las políticas del gobierno, y dos fueron obligados a dimitir como resultado de las demandas del movimiento.
Hay una desilusión ampliamente extendida con el auto-proclamado gobierno "socialista" de Evo Morales. Morales es el primer presidente indígenta de Bolivia y al principio ganó sus apoyos al basarse en esta sección de la población. Sin embargo, Morales no consiguió implementar los cambios en la constitución que había acordado con los indígenas y sindicatos. Es muy significativo que esté perdiendo su principal base de apoyo.
Muchos activistas piensan que el gobierno está en un callejón sin salida. Algunas de las capas políticamente más consciente de los trabajores, como los mineros, están oscilando decidamente hacia la izquierda.
La semana pasada el sindicato de los mineros declaró que, aunque habían apoyado al gobierno y sus reformas en el pasado, no podían apoyarlo por más tiempo. Ellos demandan que las compañías internacionales paseC a la propiedad pública, el final del neo-liberalismo y el capitalismo, y la introducción de una economía socialista. También hicieron mención a la profunda e inherente crisis del capitalismo internacional. Este poderoso sindicato representa a más de 10.000 trabadores.
A pesar de estos desarrollos tan positivos, la situación continúa estando complicada. Morales se ha disculpado por el ataque diciendo "Que me disculpen, que me perdonen", y que esto no partió de una orden del presidente. "Ningún gobierno podría pensar que un ataque como ese podría darse contra nuestros hermanos indígenas.". Pero hay una gran rabia y un crecimiente cuestionamiento de Morales. Al mismo tiempo la derecha está también intentando explotar al movimiento indígena, que está basada en la zona oriental del país, como un intento para minar al vacilante gobierno de Morales. El movimiento indígena de oriente ha recibido fondos del imperialismo norteamericano.
Sin embargo, la situación actualmente es muy volátil. El gobierno está en cirisis y podría caer. La cuestión de una alternativa política liderada por la clase trabajadora al imperialismo y al colonialismo está siendo puesta sobre la mesa, mientras las esperanzas en Morales siguen decayendo.
Pronto más informes, comentarios y análisis de Alternativa Socialista Revolucionaria (CIT Bolivia).
Special financial appeal to all readers of socialistworld.net

Support building alternative socialist media

---

Socialistworld.net provides a unique analysis and perspective of world events. Socialistworld.net also plays a crucial role in building the struggle for socialism across all continents. Capitalism has failed! Assist us to build the fight-back and prepare for the stormy period of class struggles ahead. Please make a donation to help us reach more readers and to widen our socialist campaigning work across the world.

Donate via Paypal

CWI- Please inform us if you are reproducing any material from this site.