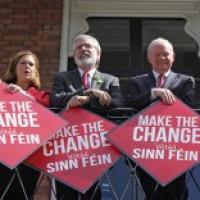 Las elecciones locales y europeas del pasado mayo pusieron de relieve el rechazo masivo de los trabajadoes a las politicas de austeridad
Las elecciones locales y europeas del pasado mayo pusieron de relieve el rechazo masivo de los trabajadoes a las politicas de austeridad y un enorme deseo de una alternativa política. En este contexto, el Sinn Féin han hecho grandes avances y se ve claramente por muchos como una fuerza de izquierda y anti-austeridad.
El Sinn Féin utiliza su plataforma en el Dáil ( Parlamento irlandés) para atacar al gobierno por sus políticas de austeridad y con ello ha logrado aumentar su apoyo sobre la base de su oposición a la austeridad, al rescate y a los impuestos de propiedad / agua.
Teniendo en cuenta sus 14 diputados y 154 concejales, sería beneficioso si el Sinn Féin utilizara su posición para construir el tipo de movimiento activo contra la austeridad que se necesita; por ejemplo mediante el apoyo decidido a la campaña de no pago para derrotar al Canon del Agua. Por desgracia, este no es el camino que han tomado.
El Sinn Féin han indicado que quieren ser parte de una coalición después de las próximas elecciones, posiblemente con la participación de los laboristas y ,no se descarta, incluso con el Fianna Fail o Fine Gael. Tenemos que empezar a preguntarnos sobre el precio que tendrán que pagar para lograrlo. En una entrevista en Morning Ireland ( el pasado 11 de septiembre ) el diputado del Sinn Féin Pearse Doherty afirmó el tema de las tarifas del agua no sería un impedimento para que el Sinn Féin entrara en un gobierno de coalición.
La actitud del Sinn Féin y sus alianzas políticas en los consejos municipales también es preocupante. En los consejos de todo el país, desde mayo,el Sinn Féin ha participado alcaldías y gobiernos municipales con Fianna Fáil, Fine Gael y lanoristas , aun cuando hubiese posibilidad de articular mayorías antiausteridad.Por ejemplo, en Cork el Sinn Féin rechazó la propuesta de la Alianza antiausteridad ( AAA) (1) para una alianza de Sinn Féin, AAA y concejales de izquierda e independientes para crear un consejo anti-austeridad. En cambio, votaron a favor de los candidatos del conservador Fianna Fáil para el alcalde y el vicealcalde.
En el gobierno, en el Norte, el Sinn Féin han aplicado recortes y privatizacióones. Una y otra vez, vemos que por desgracia la oposición verbal del Sinn Féin a las políticas de austeridad no se corresponde con la altura de sus acciones en la práctica. Mucha gente en las últimas elecciónes generales votaron por los laboristas con la esperanza de que iban a defender los intereses de los trabajadores. La traición de los laboristas a estos votantes llevó a su aniquilación en las elecciones del pasado mayo. Esto debería ser una advertencia para todos aquellos que ahora miran al Sinn Féin como una alternativa.
Al igual que los otros partidos principales, el Sinn Féin busca activamente el apoyo y la financiación de las grandes empresas, especialmente en los EE.UU.. Los amigos de Sinn Féin, el brazo estadounidense de recaudación de fondos, recaudaron 359.023 dolares en los seis meses anteriores a abril 2014 incluyendo 20,000 dolares de una empresa de construcción llamada United Structural Works, 10.000 de Eurotech Construction Corp y 5,000 dolares de Safeway Atlántico que emplean a Anglo´s David Drumm como consultor! Una alternativa de izquierda y la clase trabajadora es, sin duda necesario. Por desgracia, cuando se examina su historial de cerca, esto no es lo que oferta el Sinn Féin
Nota
(1) En las pasadas elecciones municipales el frente electoral Alianza Anti-Austeridad (AAA), impulsado por el Socialist Party( organización del CWI-CIT en Irlanda) obtuvo 14 concejales; particularmente importante en este caso es que la AAA ganase tres concejales en el ayuntamiento de Limerick y otros tres en Cork, lo que la convierte en un movimiento nacional y no solo centrado en Dublín.
En las últimas semanas la Alianza ha impulsado una campaña contra el pago del nuevo canon/tasa del agua,una lucha que no es nueva ya que en el periodo 1994-1996 se produjo una situación similar cuando se impusieron las tarifas de agua.Una gran campaña se lanzó inmediatamente y decenas de familias se negaron a pagar las tasas
Por eso para derrotar el nuevo impuesto del agua es posible repetir la campaña de los años noventa con nuevas variaciones. Una elección parcial en Dublin South West en octubre tiene una notable coincidencia con lo sucedido en el 96 cuando en una elección parcial un candidato propuesto por el movimiento anti-tasa estuvo a punto de derrotar al candidato de los partidos de gobierno.
Ahora, aparte de la lucha en la calle,reuniones vecinales y un llamamiento a no pagar,la Alianza tambiñen presenta un candidato anti-tasa,Paul Murphy,antiguo eurodiputado del Socialist Party. Una victoria del candidato propuesto por la Alianza supondría enorme presión sobre el gobierno y también sobre los partidos de la oposición, Fianna Fáil y Sinn Féin para lograr su compromiso por la abolicion de la water tax.
Special financial appeal to all readers of socialistworld.net

Support building alternative socialist media

---

Socialistworld.net provides a unique analysis and perspective of world events. Socialistworld.net also plays a crucial role in building the struggle for socialism across all continents. Capitalism has failed! Assist us to build the fight-back and prepare for the stormy period of class struggles ahead. Please make a donation to help us reach more readers and to widen our socialist campaigning work across the world.

Donate via Paypal

CWI- Please inform us if you are reproducing any material from this site.