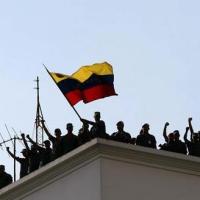 Diferencias que semejanzas respecto al golpe de 2002
La situación actual en nuestro país se va poniendo más difícil, la crisis económica afecta a todo el pueblo venezolano, pero más al trabajador, a las familias de escasos recursos, lo que viven de un salario mínimo, la escases de alimentos, las medicinas y los productos de higiene personal, perjudica a toda la población, las colas son insoportables, las personas pierden un día entero solo para comprar uno o dos productos.
La crisis económica mundial está afectando también a Venezuela, a eso se le suma la fuerte caída de los precios del petróleo, la burocracia roja rojita que se ha dado la tarea de quebrar todas las empresas que fueron nacionalizadas y que hoy día no producen para satisfacer la demanda del mercado, el dólar negro, la corrupción en la burocracia, todo estos elementos hace que Venezuela sea un hervidero social.
11 de Abril del 2002
Nos trasladamos al primer periodo del presidente Chávez, entre finales del año 2001 y principio del 2002 encontramos algunas semejanzas con la actualidad, principio del 2015.
El año 2002 vimos como la burguesía, junto a los partidos políticos de derecha con la CTV y la meritocracia de PDVSA de entonces, se unieron desde finales del 2001 para sacar al presidente Hugo Chávez Frías, todo se inicia con la política de la meritocracia de Pdvsa en ir disminuyendo poco a poco los hidrocarburos para sabotear todo el aparato productivo venezolano, esta política fue tomada por los burócratas de la estatal petrolera, en respuesta al presidente Chávez que buscaba eliminar a estas generaciones de meritocratas que se adueñaron del petróleo y eso llevo a perjudicar los intereses de la burguesía venezolana y de los norte americanos.
Luego las empresas el Gas doméstico, las empresas privadas de alimentos baja su producción, comienzan a producirse kilométricas colas en las bombas de gasolina, las personas duran días para poder llenar sus tanques, el Gas doméstico desaparece, el pueblo venezolano comienza a cocinar en hornos improvisados hechos con aserrín, fogones y concinas eléctricas, los transporte se fueron paralizando poco a poco, los medios de comunicación atacaba al presidente y sacaban en primera plana las colas, la escases, las protestas de la oposición, luego la CTV llama a un paro a nivel nacional, se va preparando un Golpe de Estado para derrocar al Presidente Hugo Rafael Chávez Frías
Gracias a las presiones ejercidas por la burguesía empresarial y la aristocracia petrolera y sindical logran darle un golpe de estado al presidente Chávez el 11 de Abril del 2002.
2015
Hoy en día año 2015, estando en la presidencia Nicolás Maduro, vemos que las colas en los supermercados aparecieron desde hace meses, pero en el 2015 se han convertido en un calvario para el pueblo, han desaparecido de los estante los productos de primera necesidad, como la leche, el café, producto de higiene personal como los pañales, el desodorantes, el champú para cabello, el papel higiénico, entre otros, el dólar paralelo y horita el simadi que legaliza el dólar paralelo está disparando la inflación.
El gobierno habla de una guerra económica, pero a simple vista se ve que el gobierno va perdiendo dicha guerra, vemos como la producción en las empresas privadas han disminuido, las irregularidades en la distribución de alimentos y productos de higiene personal afectan el normal desenvolvimiento de los establecimientos comerciales.
En los pueblos y caseríos, ya no llegan los productos alimenticios, tiene que emigrar para la ciudad y poder comprar lo que se necesita y lo que encuentre para poder vivir, vemos que no se ha podido normalizar la situación y el gobierno no puede controlar la especulación, el bachaqueo y la reventa de productos.
El 12 de febrero el gobierno ha detenido a unos supuestos militares golpista y también a civiles, también capturo un avión tucano que se iba a utilizar para bombardear al palacio de gobierno y la cede de telesur, un supuesto documento que tenían los golpistas donde se refería a la transición después de derrocar al presidente Maduro.
Más diferencias que semejanza
Encontramos que los dos periodos tienen más diferencias que semejanzas, en el periodo de Chávez vemos como la derecha conservadora y sus lacayos utilizan un método que primero canse al pueblo venezolano, para luego introducir por medios de la prensa escrita y visual una campaña para que la gente salga a la calle y así sacar al presidente democráticamente electo, pero no contaron con el pueblo de a pie, con los explotados y los oprimidos, con los hijos de los trabajadores que en ese momento eran soldados, ellos tomaron las calles haciendo que la oposición se escondiera y saliera huyendo de Miraflores, por un momento el pueblo tuvo el poder en sus manos, pero sin una dirección claramente revolucionaria, la principal consigna era "queremos que vuelva Chávez", cuando regresa lo primero que hace es decir: "Dios perdónalos porque ellos no saben lo que hacen", haciendo que el pueblo regrese a sus casas, después que el pueblo tomo el poder por un día, vemos que Chávez le tuvo miedo al poder que tiene el pueblo cuando se moviliza.
Las características de hoy es muy diferente, las políticas erradas del gobierno, su retroceso en las medidas que beneficia al pueblo realizado por Chávez, una política antiobrera marcadas en las inspectoría del trabajo y en las empresas nacionalizadas, hace que la burguesía ataque de nuevo ya que ve que este gobierno es débil, así como con Chávez, Maduro no cree en sus bases, en el pueblo, la oposición ven fisuras en el gobierno y lo está doblegando, haciendo que tomen medidas a beneficios del empresario y contra los trabajadores.
Es por ello que la clase trabajadora debemos unirnos para luchar contra la política que se está impulsando desde la mesa de negociación mal llamada paz, paz para los empresarios y burócratas rojo rojitos.
No más dólares a la burguesía parasitaria venezolana, cárcel para los empresarios, burócratas y comerciantes que juegan con el hambre del pueblo.
Special financial appeal to all readers of socialistworld.net

Support building alternative socialist media

---

Socialistworld.net provides a unique analysis and perspective of world events. Socialistworld.net also plays a crucial role in building the struggle for socialism across all continents. Capitalism has failed! Assist us to build the fight-back and prepare for the stormy period of class struggles ahead. Please make a donation to help us reach more readers and to widen our socialist campaigning work across the world.

Donate via Paypal

CWI- Please inform us if you are reproducing any material from this site.