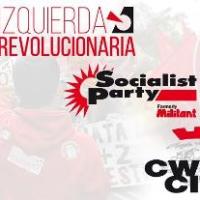 Encuentro inicial evidencia puntos muy importantes de acuerdo
Entre el 20 y 22 de septiembre se reunieron en Londres representantes de ambas organizaciones para mantener una extensa discusión sobre la situación internacional y los acontecimientos en el Estado español, Inglaterra y Gales. Además de estos debates, muy productivos, se celebró una reunión amplia con los miembros de la dirección del Socialist Party en Inglaterra y Gales. Junto a las discusiones sobre perspectivas se trataron en profundidad las tareas y tácticas necesarias para construir, nacional e internacionalmente, organizaciones socialistas combativas.
Durante estos días de reunión quedó claro que hay puntos muy importantes de acuerdo sobre todas estas cuestiones, suficientes para iniciar con entusiasmo un proceso de debate y colaboración más amplio entre ambas organizaciones sobre una base política de principios. Ello no implica un acuerdo en cada uno de los detalles o cuestiones, sino respecto al análisis político principal, los métodos y las tareas necesarias a las que se enfrentan la clase obrera y los socialistas revolucionarios, nacional e internacionalmente. También es importante que la militancia y la dirección de cada organización se conozcan a fondo.
Estas reuniones y debates han sido muy positivos y representan un paso adelante importante para ambas organizaciones. Para seguir avanzando en este proceso hemos acordado una serie de visitas e intercambio de materiales políticos que se desarrollarán en los próximos meses.
22 de septiembre de 2016
Special financial appeal to all readers of socialistworld.net

Support building alternative socialist media

---

Socialistworld.net provides a unique analysis and perspective of world events. Socialistworld.net also plays a crucial role in building the struggle for socialism across all continents. Capitalism has failed! Assist us to build the fight-back and prepare for the stormy period of class struggles ahead. Please make a donation to help us reach more readers and to widen our socialist campaigning work across the world.

Donate via Paypal

CWI- Please inform us if you are reproducing any material from this site.