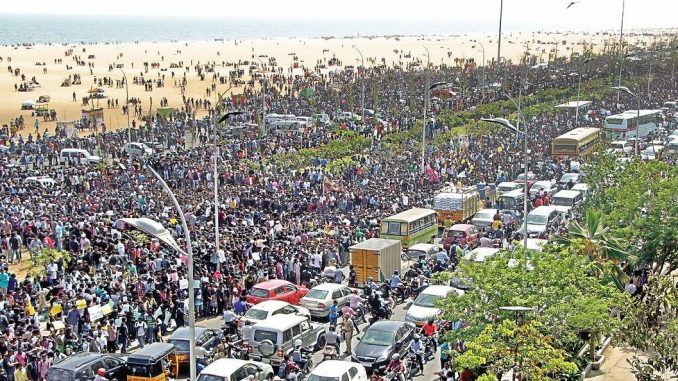 Corruption, nepotism, and other crimes of ruling party exposed.
The current crisis within the ruling party in Tamil Nadu, India, AIADMK (All India Anna Dravida Munnetra Kazhagam) is adding to the enormous mass discontent that exists on the ground against all the establishment parties in India. Following the death of the Chief Minister of the state government, in-fighting within the party about who should succeed has intensified. The ongoing corruption, nepotism, and other crimes of that ilk mean that this right wing party stands more exposed to anger than ever. The demand for a mass workers' party that can put up a fight to benefit workers, peasants and poor is more vital than ever.
The masses could take to the streets with such demands in the future. Only a few weeks ago in Tamil Nadu, an historic mass movement was triggered by the ban on the traditional bull taming ceremony linked to Tamil New Year, known as Jallikaddu. Below is the link to an article published on the website of New Socialist Alternative (NSA), the CWI section in India, which gives a detailed analysis of that movement.
http://www.socialism.in/index.php/jallikattu-protests-people-locked-horns-establishment/
Socialistworld.net
Special financial appeal to all readers of socialistworld.net

Support building alternative socialist media

---

Socialistworld.net provides a unique analysis and perspective of world events. Socialistworld.net also plays a crucial role in building the struggle for socialism across all continents. Capitalism has failed! Assist us to build the fight-back and prepare for the stormy period of class struggles ahead. Please make a donation to help us reach more readers and to widen our socialist campaigning work across the world.

Donate via Paypal

CWI- Please inform us if you are reproducing any material from this site.