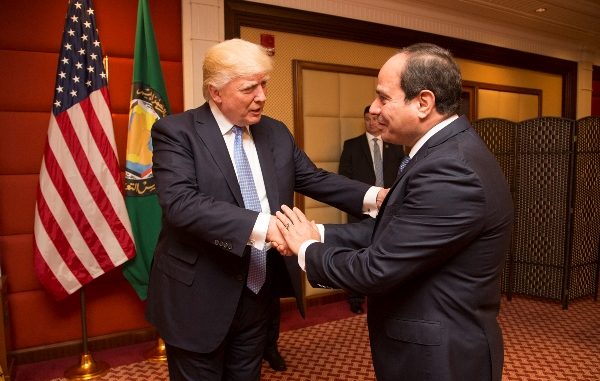 After telling civil servants that they would not be getting a pay rise, Egyptian President Abdel Fattah al-Sisi asked, "Do you want to build your country … or are you going to look for potatoes?"
In the previous two weeks, the price of potatoes had gone up from six Egyptian pounds (LE) to as much as fourteen. An Alexandria news service ran a Facebook poll asking which people would prefer: 89 per cent of the 24,000 who took part said, "potatoes".
With almost every form of protest shut down by the regime, this was a rare opportunity to show opposition to Sisi's dictatorial regime.
Before opposition rebuilds on the streets, in workplaces and universities, Sisi aims to change the constitution so he can serve more than two terms as president.
An editorial in 'Al-Akhbar (30.12.18), a state-run newspaper, expressed hope that 2019 would see "the start of a belated political reform" to secure Sisi's future in power. This would "preserve all the people's gains in terms of security, stability and economic recovery" since he came to power five years ago. He aims to follow China's leader, Xi, Russian strongman, Putin, and Turkish authoritarian leader, Erdogan, who have all changed constitutions to extend their time in office.
"Security, stability and economic recovery," is fragile and superficial. The benefits have mostly gone to the wealthy clique of big businessmen and top military officers around Sisi.
Inflation remains high
Working class and poor people are paying a heavy price for the government's austerity programme, imposed by the IMF in 2013. Although the economy has recently been growing at 5.3 per cent – a rate not achieved for ten years – prices have been going up even faster. In October, urban inflation was 17.7 per cent, with food and drink, education, gas and electricity all rising fast. It eased slightly in November to 15.7 per cent, but fruit and vegetables went up 48 per cent.
Tourist numbers increased 40 per cent in 2018, but the December 28th bomb attack on a coach that killed four near the Great Pyramid of Giza, shows the potential risk to the economy of a fall in tourism revenue. A new global recession will also cut tourism and the large number of jobs dependent on it, which accounts for 20 per cent of GDP.
Around 900,000 new jobs a year are needed to meet the number of young people entering the job market. Foreign direct investment, however, fell from $7.93 billion in 2017 to $7.72 billion in 2018 – well below the $10.9 billion peak reached in 2007 before the financial crash.
Although the government is carrying out some large infrastructure projects, such as moving the capital (including presidential palace and government buildings) to a new site 30 miles away, basic public services remain in a dire state.
Foreign debt ballooned from $35 billion in December 2010 to $92.6 billion in June 2018, with interest payments rising by 42 per cent.
Crack-down on protest
A sign of the regime's lack of confidence, despite the current low level of protests, was the ban on sales of yellow hi-vis vests after the protests in France. Mohammed Ramadan, a lawyer, was sentenced to 15 days in jail after he was photographed wearing a yellow vest in solidarity with the French protesters. He was accused of "spreading false news" and "spreading the ideology of a terrorist group." Shopkeepers were also threatened with jail if they broke the sales ban.
Other victims of repression have included women exposing sexual harassment, such as Amal Fathy, a member of the banned April 6 youth movement (which played a role in the 2011 uprising that forced out President Hosni Mubarak). She was charged with "spreading false news that threatened national security" and "disseminating a video that violated public decency." She had described ongoing sexual harassment, the failure of the government to protect women and to provide decent public services. She also faces other charges including joining an illegal group. A two-year jail sentence was upheld by the Appeals Court on 30 December 2018.
Writer and economist, Abdel Khalek Farouk, was arrested on October 21st. His latest book, 'Is Egypt Really a Poor Country?' blames poverty on corruption. It was seized at the publishing house as it was being prepared for print. The 61-year old has previously published more than twenty books analysing Egypt's economy.
Yet Hosni Mubarak's sons, Alaa and Gamal, are free on bail accused of violating stock market and central bank rules to make unlawful profits through shares dealing in 2007.
A State of Emergency has been in force since two church bombings in April 2017. It allows security forces to "take [measures] necessary to confront the dangers and funding of terrorism and safeguard security in all parts of the country." Death sentences are still being passed on hundreds of Islamists. Seventy five were sentenced to death in September 2018, over a 2013 sit-in supporting the Muslim Brotherhood ex-president Mohammed Morsi, which ended with security forces killing hundreds of protesters.
Workers taking strike action and organising independent trade unions have been arrested and imprisoned as terrorists.
The courts are firmly under the control of the ruling class. In July a law was passed subjecting anyone with more than 5,000 followers on social media to surveillance. Amnesty International has called Egypt "an open-air prison for critics."
The Supreme Media Regulatory Council has now drawn up proposals to block websites, suspend broadcasts and impose large fines for media organisations that use anonymous sources or "[insult] the values and beliefs of society," along with other ambiguous rules. Over 600 journalists, writers, politicians and public figures signed a petition calling for its abolition. The maximum fine was then reduced from LE500,000 to LE250,000.
During October and November at least forty human rights advocates, lawyers and political activists were arrested and held in "undisclosed locations". Many of those arrested were people who provided humanitarian and legal support to families of political detainees, according to Human Rights Watch.
Despite levels of oppression higher than during Mubarak's final years and an almost complete absence of strikes during the past year, the Egyptian working class will renew its struggle to defend jobs and win decent pay and conditions. Blocked by the leaders of state-run unions, workers will need to rebuild democratically-run independent trade unions – a difficult and dangerous task but one which can be prepared even now.
Workers also need their own political party, independent from those who only want a more liberal form of capitalism. If Egyptian capitalism could pay workers a living wage and provide jobs, housing, education and health care, for all, and still be profitable, under mass pressure from workers it would do so. But faced with competition from even lower wage economies that have more modern factories and machines, it will resist any meaningful reforms that cut its profits.
Only socialist policies of democratic public ownership of the big companies, banks and large estates would allow planning of Egypt's wealth to meet the needs of all.
The large and potentially powerful Egyptian working class will move into action again and draw along side it the youth, urban poor and poor farmers. As Sudanese workers and youth are now showing, vicious repression cannot crush opposition permanently. No wonder the Egyptian media has been almost silent about that mighty movement next door!