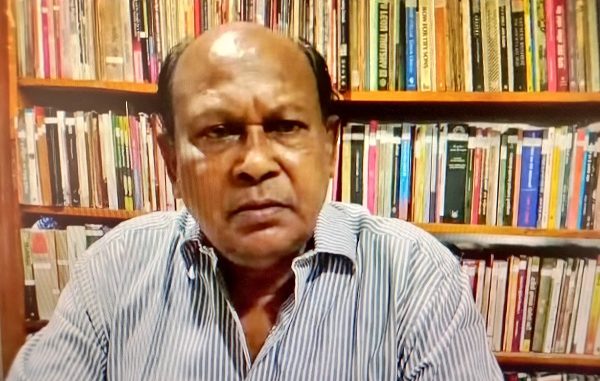 From about 7.30 on the night of Thursday, 31 March, thousands of angry protesters besieged the residence of Sri Lanka's president, Gotabaya Rajapakshe. Buses and other vehicles were set on fire in what could be provocations. Water cannon and teargas were turned on the demonstrators and mass arrests began in the early hours of the morning.
Below is the text of a statement by Siritunga Jayasuriya, Secretary of the United Socialist Party.
socialistworld.net
Siritunga Jayasuriya explains that the protest was "totally spontaneous. No trade unions or political parties called it. Women holding their children in their arms were at the head. They have had enough of queueing day and night for basic necessities and having no fuel for cooking, lighting or air conditioning. At least four people have died in these queues".
The government has failed totally to deal with the massive debt crisis in the country. Hyperinflation has almost annihilated the incomes of working people across the country. Yet the dictatorial ruling family of the [ruling] Rajapakses continues to live in luxury. 'Gotabaya go home!' the crowds shout, 'to America!', where he took refuge after drowning the decades-long Tamil uprising in blood. 
Siritunga says social media spread the news of this protest. "Island-wide action is called for this Sunday 3rd April. Anything can happen!. The unions and so-called left organisations played no role in calling this mass protest and have made feeble comments and spoken only of a 'conspiracy to bring back military rule in the country'."  
In the short video, Siritunga Jayasuriya described how, "By three in the morning, dozens of youth were being arrested, but also dozens of lawyers turned up to help them. A very unusual situation! It was the police who had created the problem!"
"The 'GotaGoHome' movement is spreading like wildfire across the island. More and more people should participate. We – the USP – think more and more people should participate in these protests. and the trade unions must make a call for a general strike".
Spread like wildfire
Siritunga Jayasuriya explained what had happened during previous uprisings such as in 1983 under J R Jayawardene – 'Black July' – and how the left can get blamed for the actions of 'agents provocateurs'. 
"This will spread like wildfire. Sunday is a key day. The trade unions should give a lead, calling for general strike action and a 'hartal' like what happened in 1953…until the government 'goes home! This is the only way to overthrow Gotabaya's corrupt regime. Today the situation is 100 times worse than what was going on in 1953".
Curfews are now likely in the early morning and probably on Sunday to try and stop the mass protest in the centre of Colombo.
"This is only the beginning", Says Siritunga. "It could be our Arab Spring. Tomorrow we will have a press conference to put forward our call for mass action, a full programme and a fight to the finish".
Video of Siritunga Jayasuriya, Secretary of the United Socialist Party:
https://www.facebook.com/uspsrilanka/videos/871093264288464