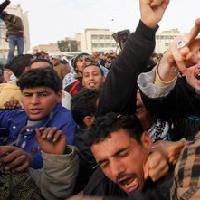 General strike in Iranian-Kurdistan
According to reports, workers at one Iran's largest refineries have been on strike over six months unpaid wages, since last Monday. Abadan's oil refinery is the largest refinery in Iran.
Below, Hamid Azar reports on a general strike in Iraqi-Kurdistan and the latest mass oppostion protests.
Socialistworld.net
Tens of thousands protested in Tehran and several other cities in Iran, on 1 Esfand (20 February). In Kurdistan, there was a general strike. The states's brutal repression has not stopped the movement.
Despite the regime mobilized 100,000 militia, police and plainclothes security forces in Tehran, arresting more than 2,000 after the protests on 25 Bahman ('Uprising Day' on 14 February), and imprisoning opposition leaders, Mousavi and Karroubi in their homes, the new mass protests could not be stopped.
The demonstrators shouted, "Down with dictatorship, Mubarak, Ben Ali – It's your turn Sayyed Ali [Khamenei]!"
Last Sunday, a university student, Hamed Nour Mohammmadi, was killed in Shiraz, and another in Tehran. Several were injured and many hundred protesters were arrested.
A general strike in many cities in Kurdistan – Sanandaj, Mahabad, Bukan, Marivan, Kamyaran and Saqez –saw the majority of local shops, the bazaars, shut down. In Bukan, 90% reportedly participated, despite threats from the military. In Mahabad, more than 1,000 took part in a public protest. In Kamyaran, the military surrounded the house of the family of Farzad Kamanger, a teacher who was hanged by the regime in May.
Important steps forward
The demonstrations against the regime on 20 February are important steps forward. It is clearly inspired by the ongoing revolution in the Arab countries. Demands and slogans are aimed directly at the regime's departure – there are no longer just demands for reforms.
There is also a feature of the last week's protests that they rapidly spread to almost the entire country.
Protests can take place any day, organized from below. Following severe state repression against mass demonstrations following elections in 2009, the opposition movement was forced to mobilize protests on dates when the regime organised official public events.
The regime's desperate violence shows how it is shaken, especially after the revolution in Egypt overthrew Mubarak.
The general strike in Kurdistan shows the way forward, with the working class getting involved in the fight against the regime. As the struggle escalates, there is an urgent need for workers to get organised, with an independent political programme that opposes the regime and also capitalism.