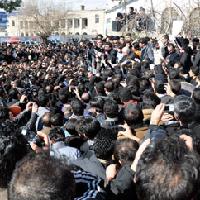 Protests continue in Kurdistan
Friday, 25 February, will likely see the largest of the recent country-wide demonstrations, so far, in Iraq. In Kurdistan, mass protests continue despite the KDP government's forces shooting at the demonstrations and killing four protesters.
On Monday, 21 February, around 2,000 people took part in a demonstration in Sulaymaniyah. Staff from the city hospital participated after a meeting in their workplace. "We are with the protesters and taking part in the protests," explained Doctor Kawa Sabah. Employees from the university also joined in protest over last week's deadly shootings.
The protests have spread to more cities in Iraqi-Kurdistan. In Kalar, Dervendishan and Halabja, demonstrations took place on Monday and more will follow in the coming days. The demonstrations in Karal and Dervendishan involved 200 people each, and several were arrested.
On Monday, a 17-year-old, Sherko Mohammed, was killed by police bullets in Sulaymaniyah and one protester, Surkiu, died in hospital of a gunshot wound he received last week. On Monday, 47 people were reported injured.
The ruling parties in Iraqi-Kurdistan, the KDP and PUK, claim they want 'negotiations' with leaders of the opposition. But even the established opposition party, Gorran (Change), says no and demands the government's resignation. Gorran has taken a cautious approach and not directly participated in the protests. The initiative has come from young people.
The KDP has, like other regimes in the region, threatened more violence. Fazel Mirani, a the KDP leader, said that if someone were to attack the KDP's party centre "[we] should we cut off his hand." Protesters replied that they would then cut off Mirani's whole arm!
Close co-operation with US imperialism
The KDP and PUK have jointly controlled Kurdistan in Iraq as an autonomous region since the first US invasion in 1991, with the exception of a civil war between the two parties from 1994-96. Their close cooperation with the US imperialism, and a relative calm situation on the surface in Iraqi-Kurdistan society, has not led to any fundamental difference in the lives of the population compared to the rest of Iraq. Every day, there is only electricity for 10 hours and there is no clean water. Poverty and unemployment are widespread. Often only police or army jobs are available, which means that the KDP and PUK have built up a huge police and security apparatus.
The anger is now focussing on KDP President Barzani and the level of corruption, but protesters also addresses many social concerns, especially demanding an end to mass unemployment.
The protest movement throughout Iraq, which draws strength from the revolutionary movements in the entire region, need to step up to strikes and workers' participation, as an organized force. Egypt and Tunisia have shown that dictators can be overthrown, but also that the fight must go on and be directed against the entire capitalist system.