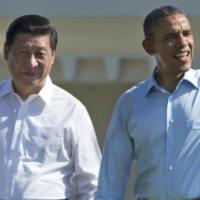 Nationalism, repression and neoliberal economic 'reform' hallmarks of Xi's rule
China's president Xi Jinping began his week-long visit to the United States, touching down in Seattle on Tuesday 22 September, where he met with top CEOs including the bosses of the biggest US tech companies Apple, Amazon and Microsoft. He was also met by protests, including by Seattle's socialist city council member Kshama Sawant, who together with supporters demonstrated in solidarity with Chinese workers and demanded independent trade unions and democratic rights.
For China's one-party dictatorship, Xi's first state visit to the US comes at a particularly testing and difficult time. China's economy has stalled this year, decelerating sharply from a downturn that began in 2014. The latest economic data only adds to the gloom. The preliminary Caixin China manufacturing purchasing managers' index (PMI), a gauge of factory output, fell to 47.0 in September, from 47.3 in August. Any reading below 50 indicates contraction. The September figure is the weakest since the depths of the global financial crisis in 2008-9.
GDP forecasts lowered
China's stock markets, which have plummeted 40 percent since June, erasing around $5 trillion in share values, fell again on the PMI data, striking a sour note as Xi began his US tour and complicating his main mission which is to "restore confidence" in China's economy.
The latest dips on the Shanghai and Shenzhen stock exchanges were accompanied by sharp falls on global markets, including Wall Street, reflecting growing fears that China, an engine for global growth especially among so-called emerging markets and commodity exporters, could tip the world economy into recession. In the days before Xi's arrival in the US, several banks and international institutions including the OECD, Asian Development Bank, and Barclays, downgraded their forecasts for China's GDP growth.
In a lengthy interview with the Wall Street Journal (owned by media mogul Rupert Murdoch who had a private audience with Xi in Beijing last week), Xi assured his American audience that his capitalist reform agenda would continue, "whatever happens". Fond of figurative speech, Xi said the reforms – entailing a bigger economic role for private and foreign capital, more deregulation and privatizations – were "an arrow shot that cannot be brought back".
Conflicting messages
While the US side intends to press the Chinese president over issues such as militarisation of the South China Sea and cybersecurity, seeking to extract some advantage from the Chinese regime's current difficulties, Xi sees the visit as a podium from which to calm fears of a Chinese recession or 'hard landing'. His problem is that China's own economic data, and the fragility of the global economy upon which it increasingly depends, act like a persistent heckler interrupting this soothing message.
Capitalist leaders around the world have become increasingly spooked as China's worsening economic slowdown and financial instability threaten to blow Xi's reform plans off course. Beijing's surprise change to its currency regime in August, following a costly and ultimately futile attempt to stem the stock market rout, raised fears of a Chinese devaluation. This further shook confidence in Xi's team and punctured the widely held view of the global capitalists that China's leaders are competent economic managers.
US-Sino relations have entered a more turbulent era as China's rise has increased the pressure upon US imperialism to defend its position as the 'global policeman'. This is especially the case in Asia where tensions are rising as shown by the vote in Japan's parliament at the weekend to abolish 'pacifist' clauses in its constitution thereby allowing Japanese troops to fight alongside US forces, or other allies, in overseas wars. Japan's nationalist right-wing leader, Shinzo Abe, whose military policies are supported by the Obama administration but opposed by a big majority of Japanese people, has made no secret of the fact that his constitutional "reinterpretation" is tailored to meet the "threat from China".
South China Sea
This is just one of many important shifts in Asia's geopolitical map, beginning with US president Barack Obama's 2011 military 'pivot' to the continent, which is designed to check China's growing economic dominance in the region.
China is far and away the biggest trading partner with the ten economies that make up the Association of South East Asian Nations (ASEAN), home to 600 million people. Bilateral China-ASEAN trade was worth 480 billion dollars last year compared to 100 billion dollars worth of trade with the US. China's financial power across the region – buying up Australian iron ore mines and Indonesian banks – has also emerged as a counterbalance to traditional US and Japanese dominance. This is the background to what is becoming an increasingly dangerous dispute over the South China Sea, which may result in some tense exchanges between Obama and Xi later this week.
China and several of its neighbouring states have overlapping claims to uninhabited islands and the surrounding territorial waters, which are believed to be rich in mineral and energy deposits, but which also have important military implications. US spokesmen have stepped up their war of words in recent months in protest over China's land reclamation and construction of airstrips and other military or potential military features in parts of the South China Sea.
The US and its key ally Japan have boosted military cooperation with the governments of the Philippines and Vietnam, which are both embroiled in infected sovereignty disputes with China over parts of these disputed waters.
The losers in this military muscle-flexing competition are the workers and poor farmers in China, Vietnam, Philippines and other Asian nations, as governments drum up nationalism and increase arms budgets at the expense of urgently needed social spending on housing, education and environmental protection including defences against rising sea levels and other effects of carbon-driven climate change. Far from trying to find solutions, the US and Chinese ruling elites are exacerbating the problems as they vie for regional pre-eminence in what is sometimes referred to as the "new cold war".
Prior to Xi's visit, the Obama administration levelled a series of charges against Beijing over hacking attacks against US companies by Chinese government and military entities. The Chinese side responded by sending their head of internal security Meng Jianzhu to Washington to try to defuse the issue before Xi's visit. Obama has called for an international framework to prevent the internet from being "weaponised" but this is very much a case of the pot calling the kettle black.
The US state, as whistle-blower Edward Snowden revealed, has bugged the phones of 120 heads of government around the world and operates a truly gigantic and intrusive global cyber espionage machine. Commenting on calls for reprisals against Chinese state-backed hackers, former NSA and CIA Director Michael Hayden exclaimed, "What are we going to do? Steal Chinese state secrets? We do that anyway!" It is possible that at the meeting of the two leaders in Washington a 'code of conduct' will be announced to limit the scope of these attacks, but this is unlikely to count for much in practice.
Interdependence
But as the queue of US corporate leaders waiting to shake hands with the Chinese president illustrates, and this included Bill Gates, Warren Buffet and Apple CEO Tim Cook, the relationship between the world's two largest economies is a complex one – with economic interdependence deepening side by side with strategic rivalry. For Boeing, which Xi visited on Wednesday, China now accounts for almost a quarter of its airplane sales. Apple counts China as its largest single market as well as its main production base.
The US Federal Reserve's decision last week to put on hold a long awaited increase in the benchmark lending rate, the first in nine years, also shows the strong financial and economic linkages between the US and China. This was recognition by the Fed of the fragile state of emerging markets (EM) which account for 40 percent of global output and are the hardest hit by China's slowdown. The shift of US monetary policy away from 'quantitative easing' and interest rates set close to zero, has led to plunging currencies and capital flight from 'EM' economies.
A feature of US diplomacy towards the Chinese dictatorship has been to play down the issue of 'human rights' – i.e. state repression – apart from some perfunctory references made on the side-lines of the official talks. For capitalist governments it is more important to discuss business deals and try to extract economic concessions.
Democracy and 'colour revolution'?
Likewise, while Chinese media furiously denounced 'Western powers' – and Washington specifically – for fomenting a 'colour revolution' in Hong Kong one year ago, referring to the mass Umbrella Movement calling for democratic elections, this has completely disappeared from Beijing's vocabulary during Xi's US tour. The absurdity of this accusation is shown by the fact that three representatives of the Hong Kong pro-democracy movement are also currently visiting the US in a bid to shadow Xi's visit. Despite being sponsored by the Democratic Party-linked 'NGO' Freedom House, the dissidents' attempt to meet with US government representatives failed. The US government values 'democracy' in much the same way as Beijing values 'national unity': these are propaganda weapons to advance their power and economic interests.
Under Xi Jinping there has been an increase in arrests of dissidents, more stringent internet controls and censorship, and a crackdown in the universities and news media against 'Western values'. The liberal or 'political reform' wing of the regime has sunk into deep pessimism. This layer favours gradual and limited opening up of the current authoritarian system out of fear that unbending hard-line repression will trigger a revolutionary explosion. Xi's anti-corruption campaign, which he has used to consolidate his control within the regime and to win over the public, has created huge tensions at the top and aggravated the economic downturn. Nationalism and repression, mixed with renewed pledges on neoliberal economic reform – these are the hallmarks of Xi's rule.
US companies have been among the main beneficiaries of the draconian laws and harsh factory conditions that enslave Chinese workers. Companies such as Apple, Dell and HP – tech companies that Xi Jinping met with this week – use suppliers in China that routinely flout safety, overtime and anti-discrimination laws, and underpay their workforce. The adoption of 'codes of ethical standards' by US multinationals is a smokescreen, much like the government 'human rights' discourse, because of half-hearted enforcement and refusal to tolerate the one force that could really make a difference: genuine trade unions as opposed to the scab-ACFTU that masquerades as a union in China.
The latest example of this came at Foxconn's giant Longhua plant in Shenzhen in the past week. 15 workers were dismissed by the company, which is China's largest exporter, because they unfurled a banner protesting the non-payment of social insurance contributions. The workers' action on 8 September, which was a brave attempt to rally the wider workforce of 100,000 at the plant, was timed to coincide with a visit by Foxconn's Taiwanese owner, the billionaire Terry Gou Tai-ming. Foxconn, which became famous for a wave of suicides by young workers in 2010 and has a reputation for military-style sweatshop discipline, is also the largest manufacturer of Apple products such as iPhones.
While US capitalists and right-wing politicians condone and profit from these conditions, it is socialists like the Seattle protesters who show solidarity with the struggle of Chinese workers to win their rights. As Kshama Sawant and her co-signatories declared in an open letter to Xi Jinping: "We stand in solidarity with the workers of China in their struggle for democratic rights, including the right to organize in independent trade unions. Multinational corporations exploiting the present sweatshop conditions in China, enforced by your government, will be confronted with our opposition and resistance."