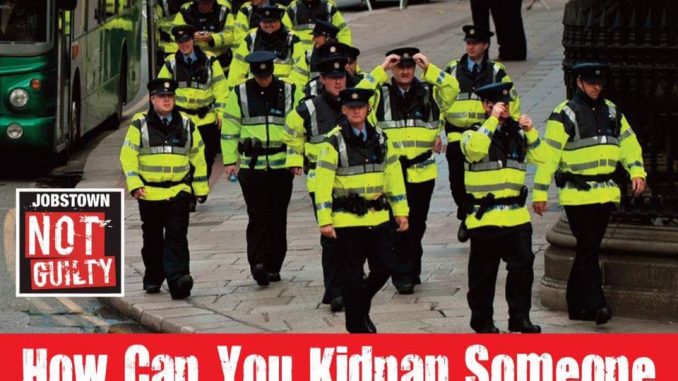 "On 24 April the biggest political trial in Ireland for a generation began. Seven people stand accused of 'false imprisonment' of then deputy prime minister Joan Burton during an anti-water charges sit-down protest and slow march in Jobstown, Dublin, in 2014. A 17 year old has already been found guilty of this charge in children's court and a further eleven protesters face related charges in the future. A guilty verdict would hold a maximum sentence of life imprisonment.
Among the first batch of adult defendants is Paul Murphy, member of the Irish parliament and of the Socialist Party' (CWI Ireland).
Below are two reports from Jobstown trial blogs, on the first day of the trial, and the disgraceful role of the Irish Labour Party in this attack on the right to protest.."
socialistworld.net
The trial of the first seven #Jobstownnotgulity defendants began today in the CCJ.The day began with a rally of supporters and defendants in Smithfield Square at 12.30pm where hundreds of campaigners, activists and supporters gathered. The rally heard from Brian Leeson from Eirigi, TDs Ruth Coppinger and Brid Smith, Cllr Pat Dunne and MEP Lidia Senra.
In courtroom 7, just after 2pm, the trial got underway with the seven defendants having their charges read to them – of falsely imprisoning Joan Burton & Karen O'Connell by 'denying her personal liberty without her consent'. All seven defendants responded to the charges by pleading 'Not Guilty'.
The main issue of the day in court was the issue of jury selection.
The Director of Public Prosecutions (DPP) had been seeking severe restrictions on who could be on the jury. They had sought to ban people from Jobstown & Tallaght, people connected to Tallaght , people who had been involved in water charges groups or campaigns, and people who had commented on social media about water charges. This would have potentially excluded hundreds of thousands of people who live in Tallaght, who are part of trade unions who have anti-water charges positions and thousands who had commented on water charges, the biggest social issue of the last number of years, on social media.
In the end, the DPP were knocked back on these criteria. The ban on people from Tallaght was reduced to only excluding people from the Fortunestown Road (where the protest happened) or people in the roads off it. Instead of the blanket ban on people who had commented on water charges, only people who had commented on the Jobstown protest itself were to be excluded.
This represents a pushback against what the DPP had wanted, but trial proper will kick off on 25 April with the prosecution laying out their case.
The judge indicated that a number of high profile witnesses will be called in the trial including Joan Burton, her assistant, and Minister Katherine Zappone.
We need to continue the campaign for the six weeks of the trial. This means continuing to show support by remaining active in the campaign. By intensifying the social media campaign – sharing Jobstown Not Guilty Facebook posts and keeping #jobstownnotguilty trending.
For regular updates from the courtcase follow the Jobstown Trial as it Happens blog (Jobstowntrial.wordpress.com)
Jobstown -v- Joan: Which side are you on?
A blog on the Jobstown trial by Socialist Party member, and Solidarity Councillor Michael O'Brien
Former Tainiste [Irish deputy prime minister] and Labour Party leader Joan Burton TD [member of the Irish parliament] will take the witness stand this week in the Jobstown protester trials where defendants including Paul Murphy TD are facing charges of her 'false imprisonment'.
Last weekend saw her party's annual conference in Wexford where an amount of sham reflection on their electoral decimation of just over a year ago took place. Their strategy for their party's recovery "#labourrebuild" amounts to saying some of the right things in this Dáil [Irish parliament buildings] about issues such as workers' rights and repeal of the eighth amendment [abortion ban)] and hoping that the passage of time will help people who supported them in the past forget their betrayals on both these issues while in government and many more besides.
The reality, despite Labour leader Brendan Howlin's admission over the weekend of unspecified 'mistakes' in government, is that he, Joan Burton and the Labour Party are fundamentally unrepentant for their coalition with Fine Gael [right wing bosses' party] and frankly feel aggrieved with the hundreds of thousands of former Labour voters who refuse to accept that the savage austerity visited on working people and working class communities, like Jobstown, was somehow unavoidable. This sense of grievance still manifests itself as we saw recently during the wrangle over the water charges where their representatives still clung to the position harder than even Fine Gael that charges in some form remain.
Unfortunately for Labour their recovery strategy has not translated into the opinion polls and is being hindered by inconvenient reminders about their past role in government. Their tantrum over the water is a case in point but when Burton takes the stand and tells the court of the inconvenience she suffered for two hours in November 2014, our response has to begin with cataloguing the daily 'inconveniences' that were experienced by people who suffered at her hands and those of her fellow Labour Ministers.
When Joan Burton visited Jobstown, in November 2014, we were more than three and a half years into that government. Under her watch, we had cuts in Special Needs Assistants, carers' allowance and benefit, the household benefits package for our elderly and disabled and a decimation of traveller education supports. We had the imposition of the property tax and the imposition of the USC by revenue. We had jobbridge (scambridge!) scandal. Furthermore there was a reduction in rent supplement caps, which as early as 2013 directly contributed to a spike of homelessness cases.
That a Labour Minister and her party could stand over all of this and the imposition of water charges in flagrant disregard for their 2011 election promises which saw them record their highest ever Dáil representation, caused undeniable widespread anger. The hammering taken by Labour in the May 2014 local and European elections did not cause them to alter their course, one jot.
The logic of the prosecution case against the Jobstown defendants is that working class people and the real representatives of workers' interests, like Paul Murphy TD, should have swallowed Labour's betrayals and bided time until the 2016 elections. The reality is that there was and is a struggle for economic survival for hundreds of thousands of people taking place and effective, militant but peaceful protest became not merely an option but a necessity in the face of Fine Gael/Labour policy.
Therefore it is entirely appropriate that a Labour Minister responsible for the above mentioned should not be permitted to go about their day to day work relatively undisturbed by the people who in large number voted for her party only to be stabbed in the back.
Historic giants of the Irish labour movement, James Connolly and Jim Larkin, in whose tradition the Labour Party still claims to stand, understood that the boundaries of protest and strike action had to be pushed when the economic survival of working people was at stake. They ended up in the dock on more than one occasion precisely for this reason. Which is why it is the Jobstown protesters who really stand in their tradition, not the Labour Party, which a long time ago integrated themselves fully into the capitalist establishment.