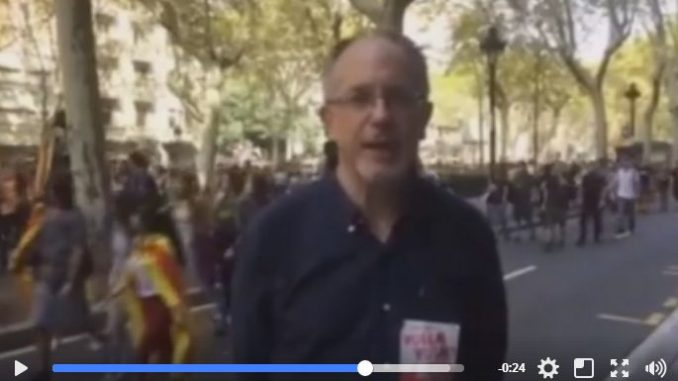 The following eyewitness report from Barcelona is by Mick Barry TD (member of the Irish parliament) for Solidarity (and a member of the Socialist Party/CWI Ireland).
More than 150,000 young people joined a mass demonstration against Spanish state repression in Barcelona yesterday (Thursday 28 September).
The mobilisation was first called by the militant Sindicato Estudiantes (students union) and then became a united front protest as other anti-repression forces mobilised.
The size and militancy of the protest shows the explosive potential in Catalonia for an anti-establishment rebellion building in the run up to Sunday's independence referendum.
"Votarem!" (We Will Vote!) and "Els carriers sera sempre boater, Boaters No Nostes" (The Streets Will Always Be Ours) were the two most popular slogans chanted by the teenage demonstrators, many of them as young as 13 or 14 years old.
It was clear an hour in advance of the 12.30 start time that this was going to be massive. Thousands were already in Placa de Universitat draped in the Catalan flag. Many were draped in a version of the flag which indicates support for the Left.
Many of the students I spoke to linked the question of social rights to the question of national rights, including opposition to cuts and evictions and support for real jobs.
In this sense, the movement is part of a Europe-wide rebellion against the capitalist establishment, broadly in tune with the protests on the streets of Paris against President Macron and the surge to Labour leader Jeremy Corbyn in Britain.
Barcelona firefighters arrived at the demonstration yesterday in their hard hats, to offer protection from police attacks, and were applauded widely.
Unusually, however, there were very few police to be seen at the demonstration. It is not so easy to try and repress a crowd of 150,000 young people, at least not without hardening the mood in the run up to the vote.
But clearly the situation is very volatile. What will be the response when the Spanish state takes further actions to suppress the vote? What happens if there is a vote for independence and Madrid says no? A general strike is now implicit in the situation.
The eyes of militant workers and young people will be on Catalonia in the days ahead.