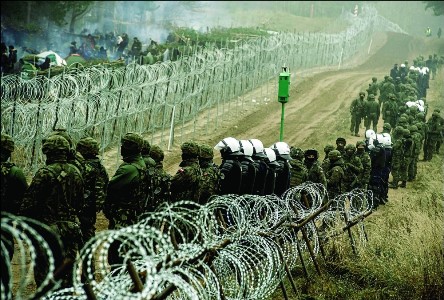 The political sparring between the regimes in Belarus and Russia, on the one side, and Poland, the EU, USA, and Nato, on the other side, is squaring up for a bruising fistfight.
Pressured by Western sanctions, Belarus dictator Alexander Lukashenko has upped the ante by threatening to cut off two important pipelines which run through Belarus territory and supply natural gas from Russia to the EU and the UK.
This threat appears to have the backing of Russia's authoritarian president Vladimir Putin who, in a show of 'solidarity', dispatched Russian military aircraft, capable of carrying nuclear bombs, into Belarus airspace. Russian paratroops have also begun 'exercising' in Belarus.
The trigger to this escalating geopolitical conflict is the 2,000 or so mainly Iraqi Kurdish refugees trapped on the Belarus/Poland border. The refugees are very much political pawns in a wider struggle between Lukashenko and Poland, the EU, and other western powers.
With the backing of Putin, Lukashenko has been facilitating the trafficking of Iraqi and other refugees through Belarus into Poland in retaliation for western-imposed sanctions. Those sanctions followed the fraudulent 2020 presidential election. They were stepped up after the hijacking in May 2021 of exiled oppositionist Roman Protasevich, whose Ryanair aircraft en route from Greece to Lithuania was forced to land in Minsk by a Belarus MiG fighter jet.
Putin is also hoping that the flood of refugees will help destabilise the EU and Western governments, as he too has had Western sanctions imposed on his regime. These followed the assassination attempt on exiled former Russian agent Sergei Skripal and his daughter in Salisbury, England, in March 2018, and in August 2020 on Russian oppositionist Alexei Navalny, who is currently languishing in a Russian prison.
Putin is also still under Western pressure following the military annexation of Crimea from Ukraine and backing for the breakaway Russian-speaking enclave in eastern Ukraine, from which a Malaysian civilian airliner was shot down in 2014.
Many of the desperate refugees are fleeing the sectarian implosion currently taking place in Iraq – a legacy of the imperialist war and invasion of the country in 2003. Putin, with his own tarnished history of armed invasions, has cynically used this fact to counter Western claims of contriving the refugee crisis.
Meanwhile, the refugees are literally pressed up against razor wire and confronted by Polish troops. Several of them have already perished in the freezing, unsanitary conditions of their makeshift forest camp.
'Fortress Europe'
No capitalist government is prepared to accept responsibility for its role in backing the wars and civil wars that have created the global refugee crisis. There is no 'legal' route for refugees seeking asylum in the West.
Western governments, including the Tory UK government, spend vastly greater sums keeping out refugees, including climate change refugees, from their territories than they allocate to fighting climate change.
The Turkish government of Recep Erdogan, under pressure from the EU and Nato, has now said that it would ban Syrian, Iraqi and Yemeni citizens from flying from Turkish airports to Belarus.
In Poland, the right-wing nationalist and increasingly authoritarian Law and Justice (PiS) party-led government of Prime Minister Mateusz Morawiecki, has used thousands of troops and police to push the refugees from its territory back into Belarus, illegally refusing to process their asylum claims.
The Polish government is using the crisis to ease pressure on it from the EU political establishment in Brussels, which has sanctioned the regime for undemocratic interference in Poland's judicial independence. As a member of the western capitalist military alliance, Nato, the Morawiecki government is insisting that Nato takes action against Belarus for threatening Polish sovereignty.
Donald Tusk, leader of capitalist opposition group Civic Platform, urged the Polish government to consider triggering Nato's Article 4 – which allows Nato to take action if "the territorial integrity, political independence or security of any of the parties is threatened".
If Nato has accused Minsk of attempting to use illegal migration to destabilise the bloc in revenge for sanctions, PiS is also using the refugee crisis to cut across domestic opposition to its authoritarianism, including its banning of abortion rights.
On Polish Independence day, last week, the PiS-led government overturned a city-wide ban by the opposition Mayor of Warsaw and allowed far-right and fascist groups to demonstrate against the refugees using virulent racist slogans.
The trapped refugees should immediately be allowed safe passage and given the right to asylum in their countries of choice.
Instead of spending vast sums of public finances on armaments and military forces, the UK, and other governments, should instead use these resources to fund public housing and to provide health and other public services to deal with shortfalls in these areas, and thereby avoid the festering of divisiveness and racism.
The scandalous treatment of asylum seekers in the UK meted out by home secretary Priti Patel – with many having to sleep on floors and then often housed in unfit hostels by unscrupulous profiteering private companies – must be ended. A proper resettlement programme with full support services must be provided.
The labour and trade union movement must reassert its support for, and assist in, the building of independent workers' movements throughout eastern Europe and Russia, as well as in the war-torn Middle Eastern states. It must assist them to fight for democratic workers' governments carrying out socialist policies to end poverty, sectarianism, and injustice.
Socialists will be to the fore in campaigning for such policies and will also strive to build socialist revolutionary forces throughout the world to fight for democratic socialist societies to end capitalist wars and economic and environmental crises for good.