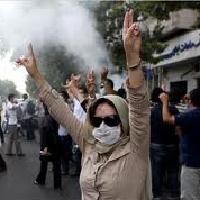 Major conflicts within the regime
On 17 Esfand (8 March, International Women's Day), the second "Tuesday protest", thousands of Iranians protested against the regime in Tehran, Shiraz, Mashhad and Kermanshah, despite brutal repression.
The regime had occupied the streets before the start of the demonstration. Moreover, various forms of police, militia and plainclothes security forces were deployed. The regime used teenage (14-16 years of age) and female militias against the protests. They attacked, in particular, Lale Park, where mothers of killed activists gathered.
The forces used tear gas and military motorcycle groups to put down the protests. Many were wounded and dozens were arrested, mostly women. Hale Safarzade, who is active in fighting for both womens' and workers rights was among those arrested.
The protests, but also major conflicts within the regime, show that the struggle continues and the regime only survives through repression. Supreme Leader, Khamenei, this week forced Rafsanjani – a former President and Iran's richest man, who kept a low profile during the protests – to resign as leader of the "Majles Khoberegan" (Assembly of Experts, a separate parliament for the mullahs). Khamenei wanted someone more reliable in the post.
The regime's chief prosecutor, Abbas Jafari, denied the regime had arrested the missing official opposition leaders, Mousawi and Karoubi, and their wives. Jafari said that "a new era of protests against the regime has begun" as the reason for the repression.
For the struggle to take new steps other methods of protest than just street demonstrations that the regime can crack down on, must be used. The working class can play a crucial role in the fight against the regime by organising itself and through strike action.